Two Pieces of Mixed-media Art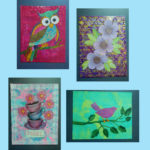 The winner gets to pick two pieces out of the four shown.
Created and donated by Mel Davenport, Diana, TX.
Value: $35.  Shipping: donated by donor
Terms: art
Kate Dudding bid $35.00 on July 12, 2020 11:19 am
Enter your email below to get notifications of new bids placed on the above item.
Shipping Details
Shipping: n/a
From: n/a
To: n/a
Payment Details
Winner will receive PayPal payment link via email.