6 Z Wraps: Eco-Friendly Food Storage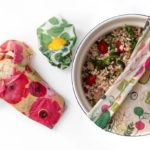 A Z Wrap is a beautiful, reusable beeswax food wrap. It's the sustainable, environmentally friendly alternative to plastic. You can use it to keep your bread, sandwiches, snacks, veggies and hard cheeses fresher, for longer. Wash your Z Wrap in cool water with a mild dish soap and a sponge or cloth. Leave it to air dry.Z Wraps will help you save fish lives!
Z Wraps are handcrafted with 100% cotton fabrics in signature designs, as well as organic beeswax, organic jojoba oil, and tree resin. Go to  https://myzwraps.com/   for more information and short videos.
6 Z Wraps – 2 small, 2 medium and 2 large.
Donated by Gail N. Herman  http://gailherman.net/
Value: $48   Shipping: donated by the donor
Terms: food
jgaudet bid $48.00 on July 15, 2020 11:38 am
Enter your email below to get notifications of new bids placed on the above item.
Shipping Details
Shipping: n/a
From: n/a
To: n/a
Payment Details
Winner will receive PayPal payment link via email.