A Taste of Alaska!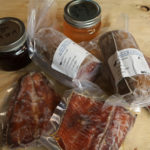 12-15 lb. insulated box packed with frozen smoked silver salmon (and smoked king salmon if my luck runs good this season!).  Includes moose summer sausage, lingonberry jam, and spruce tip jelly.  Sport-caught salmon and moose sausage are professionally prepared by Jerry's Meats and Seafood in Juneau.  Lingonberry jam and spruce tip jelly are homemade. Overnighted via FedEx anywhere FedEx delivers overnight.
The photo is a representation of what will be in the box. The 12-15 lb. capacity insulated box will be filled.
Donated by Pete Griffin
Approximate value: $275.   Shipping: donated by donor
Terms: food
Kate Lutz bid $200.00 on July 17, 2020 4:04 pm
Michael J Bennett bid $160.00 on July 15, 2020 11:35 am
Enter your email below to get notifications of new bids placed on the above item.
Shipping Details
Shipping: n/a
From: n/a
To: n/a
Payment Details
Winner will receive PayPal payment link via email.