Set of Photographs of YOU at the next Tejas Storytelling Festival or the Territory Tellers of Oklahoma Festival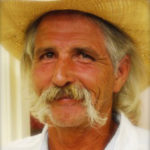 For anyone attending these festivals, Chester Weems will do a set of photographs of the bidder with friends, performing, and/or presenting at the festival. These will be candid photos with available light, not full posed portraits with portrait lighting. The photographs can be 4 x 6, 5 x 7, 8 x 10, or 8.5 x 11or a combination of prints.
He will attempt to do at least 7+ images (hopefully more), but that will be dictated by circumstances. He can also provide a set of the digital images on a flash drive with rights to duplicate as they see fit.
Quantity and setting will depend on circumstances at the festival in Denton, TX or in Oklahoma.
Chester has been photographing storytellers for over 20 years and has won several photo contests with other images. A sample of his work is above.
Donated by Chester Weems.
Value: $100     Shipping price: donated by the donor
Terms: services
smagana bid $35.00 on July 20, 2020 8:10 pm
Enter your email below to get notifications of new bids placed on the above item.
Shipping Details
Shipping: n/a
From: n/a
To: n/a
Payment Details
Winner will receive PayPal payment link via email.