A Scribe Video to: (A) Promote Your Event or Services or (B) Create a Video from Your Picture Book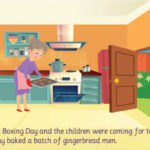 (A) Mike Facherty created this video to promote an Edinburgh Festival show which sold out every performance! You supply the images and the audio.
(B) If you have a picture book that you want turned into a video with you narrating,
Mike Facherty can help you. You send him the images of the pages of your book and an audio file of you narrating the book, and he can produce a video like this one:    https://youtu.be/VclLmY7WiOg
Value: $50
Donated by Mike Facherty, Henley Santa    https://www.facebook.com/Henley-Santa-905310706248862/
Terms: services
Gail Herman bid $40.00 on July 21, 2020 11:05 am
Fred Aguirre bid $35.00 on July 18, 2020 2:26 pm
Enter your email below to get notifications of new bids placed on the above item.
Shipping Details
Shipping: n/a
From: n/a
To: n/a
Payment Details
Winner will receive PayPal payment link via email.