Handmade Blank Journal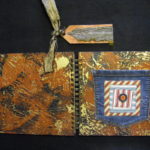 Covers are stiff book board that are covered with hand-painted papers in black, gold and copper.  The front sports an embellished jeans pocket with a bookmark.  There are over 100 pages (so that's 200+ sides to use) of good quality ivory stock, great for writing and writing and writing and even including sketches.  The book is spiral bound, so it's great for working on your lap.
Created and donated by Lynn Ruehlmann  http://www.cascadingstories.com  .
Value:  $42    Shipping: donated by the donor
Terms: storytelling-accessories
Claire Nolan bid $35.00 on July 14, 2020 8:32 pm
Enter your email below to get notifications of new bids placed on the above item.
Shipping Details
Shipping: n/a
From: n/a
To: n/a
Payment Details
Winner will receive PayPal payment link via email.