Two CDs by Connie Regan-Blake and Three 'Story Portal Greeting Cards'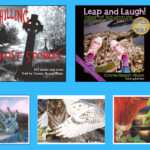 "Leap and Laugh!  Tales of Adventure,"  is Connie's most recent CD.  It was awarded "Honor Recording" by Storytelling World and comes with a download card inside the CD. Come along on a laugh-out-loud & remarkable journey! From a leap in New Zealand to "Dorky Spandex vs Macho Leather" on the Blue Ridge Parkway, to the sparkling Well at the End of the World.
"Chilling Ghost Stories: Haunting Tales for Adults & Teens" - these spooky tales are perfect for the thrill lover in your family or a Halloween gathering for teenagers and up. Influenced by legends from The British Isles and the Southern Appalachian Mountains, these stories combine fright with a sense of hope. With original music by composer and performer Paul Reisler, this CD was also honored with The Storytelling World Award.
In addition to her storytelling, teaching and coaching, Connie Regan-Blake has always been drawn to making collages. She gathers & cuts out images from magazines, calendars, and photos and puts them together in unique ways to tell a different story. And now for the very first time you can enjoy her 'Story Portal Greeting Cards.' Here are three of her favorites "Unknown Leap", "In Sync" and "Whiskers & Wings" (each comes with an envelope.) See her whole collection of cards on her website www.StoryWindow.com
Donated by Connie Regan-Blake  www.StoryWindow.com
Value: $42  Shipping: donated by donor
Terms: books
wmontgomery bid $60.00 on July 21, 2020 2:42 pm
mhensley bid $55.00 on July 21, 2020 7:34 am
RFerguson bid $40.00 on July 20, 2020 9:23 pm
wmontgomery bid $35.00 on July 18, 2020 3:05 pm
Enter your email below to get notifications of new bids placed on the above item.
Shipping Details
Shipping: n/a
From: n/a
To: n/a
Payment Details
Winner will receive PayPal payment link via email.