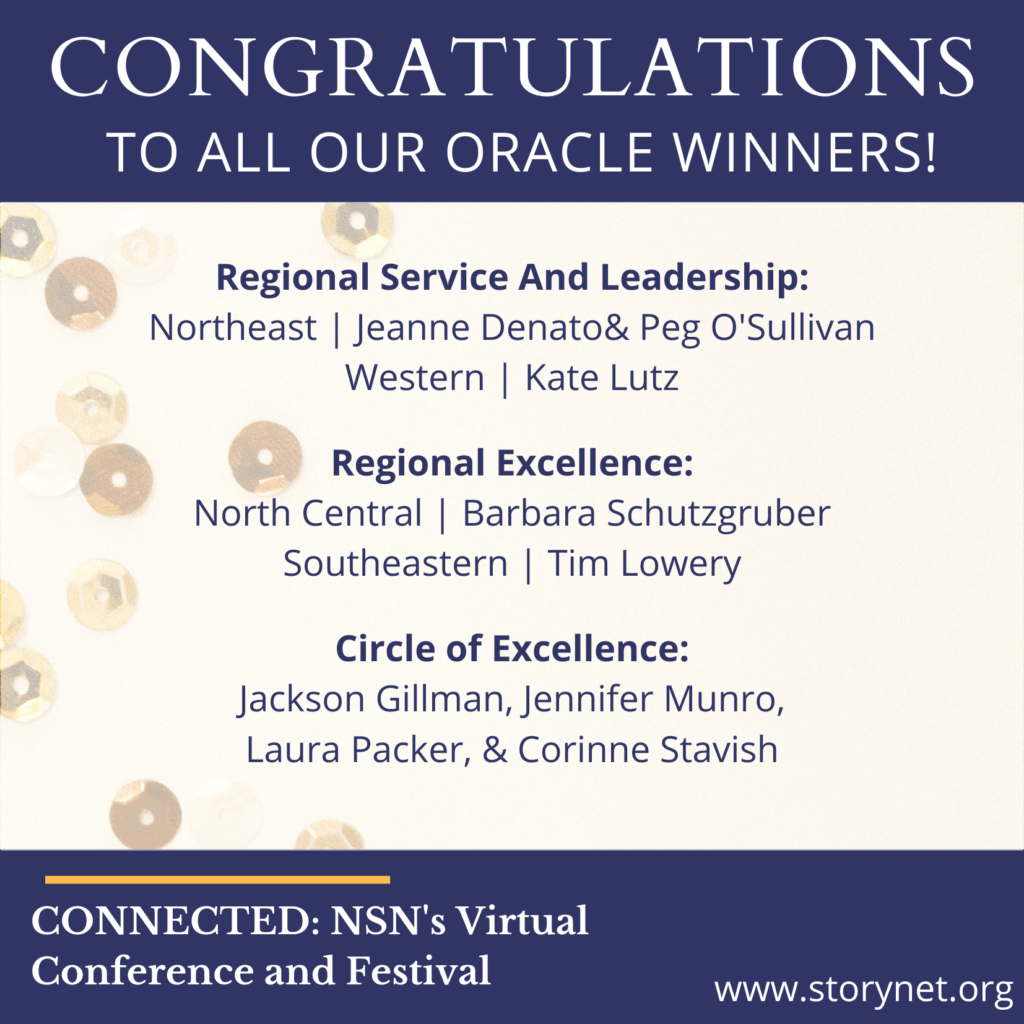 NSN is proud to annually recognize individuals and organizations for their outstanding contributions to storytelling.
Since their inception in 1995, the ORACLE Awards have been presented by the National Storytelling Network to those who have excelled in their art, or made significant contributions to storytelling, NSN or its members.
The ORACLE can be an award given for:
O rganization/Originality
R eliability
A chievements
C reativity
L eadership
E xcellence

in the Storytelling Community
Nomination Process
Nomination submissions are currently not being accepted. NSN will post an announcement on our website, via email, and on all of our social network accounts once we're ready to start accepting submissions.
Award Recipients
Lifetime Achievement Award – is presented to individuals in the storytelling community who have dedicated their lives to the art form of storytelling and who have demonstrated meritorious service to the National Storytelling Network, as well as to the community of storytellers at large. The individuals who are awarded are those who have expanded public awareness of the art of storytelling by virtue of their preservation of traditional art forms or the significant originality of their body of work.
Circle of Excellence Award – is presented to artists who are recognized nationally by their peers to be master storytellers who set the standards for excellence and have demonstrated, over a significant period of time, a commitment and dedication to the art of storytelling.
Regional Excellence – recognizes the creativity, professional integrity, and artistic contributions of tellers who have greatly enriched the storytelling culture of their region.
Distinguished National Service Award – is presented to those individuals, members or groups who contribute their time and energy in an exemplary manner on the national level to forward the work of the National Storytelling Network.
Talking Leaves – is presented to those members of our community who have made outstanding contributions to the literary body of storytelling as authors, editors or collectors.
International StoryBridge Award – recognizes the exemplary work, dedication and spirit of those individuals or groups that promote the art of storytelling in their own country or promote the building of bridges between their country and other countries through the use of storytelling and/or storytelling events.
Regional Award Recipients
Regional Service and Leadership Awards are presented to individuals or organizations that have made a significant contribution to their local or regional storytelling community and/or have used storytelling to make a significant contribution to the larger community in which they live.
Southeast Region – Florida, Mississippi, Alabama, Georgia, South Carolina, North Carolina, Tennessee, Kentucky
South Central Region – Kansas, Missouri, Oklahoma, Arkansas, Texas, Louisiana
North Central Region – North Dakota, South Dakota, Nebraska, Minnesota, Iowa, Wisconsin, Illinois, Michigan, Indiana, Ohio
Northeast Region – Maine, New Hampshire, Vermont, Massachusetts , Connecticut, Rhode Island, Upstate New York
Mid-Atlantic Region – Metro NYC, Pennsylvania, Maryland, Delaware, New Jersey, West Virginia, Virginia, District of Columbia
Pacific Region – Washington, Oregon, California, Alaska, Hawaii
Western Region – Idaho, Utah, Montana, Colorado, Nevada, Arizona. New Mexico, Wyoming