The National Storytelling Conference is a great chance to see some fabulous performances, award-winning keynote speakers and participate in a variety of workshops over a four day period, conducted by the "cream-of-the-crop" of storyteller presenters. The vision of the conference is to bring together all the individuals, organizations, businesses and institutions who seek to advance their skills, knowledge and showcase their talent from across the world. It is also a great time to see old friends and meet new ones through our networking events, that will encourage sharing information, mentoring, long-lasting collaborations and friendships. You will meet individuals using storytelling in all of its forms and mediums at the National Storytelling Conference.
The theme for the 2021 Connected National Storytelling Conference is…
CONNECTED: ACROSS THE DIVIDE
Five days of storytelling aimed at building bridges with stories.
Storytelling has been shown to be a powerful tool to help bridge differences with compassion and empathy. Stories help us see the humanity in one another, understand motivations, and appreciate similarities. This July, we will be exploring all the ways that story and storytelling help us reach across the divides that separate us. We seek proposals that share the power of story to address our differences and celebrate our commonalities. Have you used story to address divides between cultures, races, ages, religions, abilities, political parties, or storytelling forms/styles? What about the divides within or between families, communities, or organizations? Can you speak to the divides created by this pandemic, including the distance between traditions of live performance and the demands and limitations of virtual delivery? Share your expertise in helping to reach across any divide – physical, emotional, psychological, or digital. We look forward to exploring these ideas with you.
For those who cannot attend all or part of the conference, NSN will be recording sessions. We are continuing to build a digital library of resources that will help storytellers learn and grow from their own homes, on their own schedules.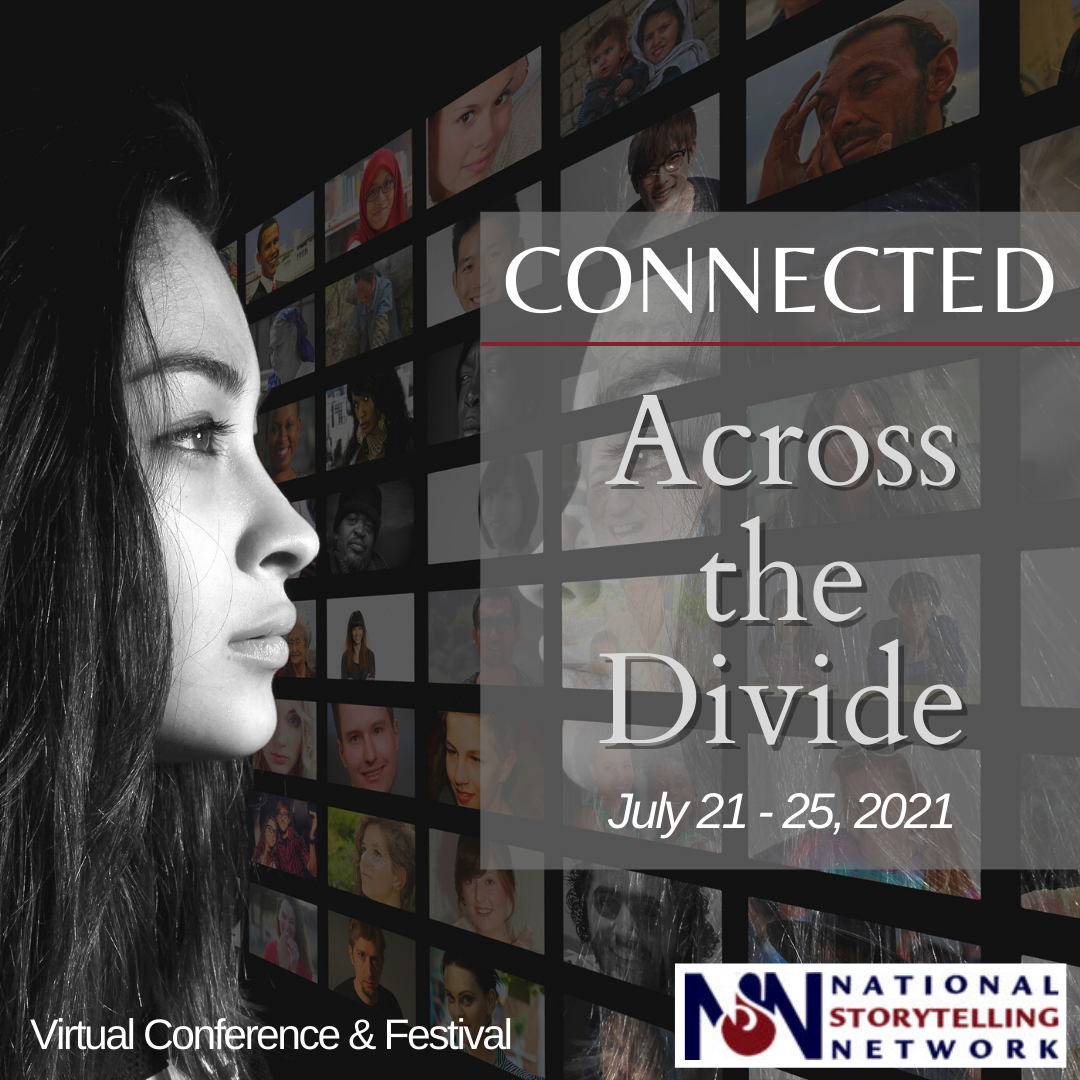 When
July 21st, 2021 8:30 AM through July 25th, 2021 10:00 PM
Event Fee(s)
SIG Pre-Conference Activities
Healing Story Alliance (HSA) Kind Stories Workshop - Members
$ 20.00
Healing Story Alliance (HSA) Kind Stories Workshop - General Public
$ 30.00
Producers & Organizers (PRO) Workshop Part 1 & 2 - Members
$ 25.00
Producers & Organizers (PRO) Workshop Part 1 & 2 - General Public
$ 40.00
Producers & Organizers (PRO) MORNING Workshop Only - Members
$ 15.00
Producers & Organizers (PRO) MORNING Workshop Only - General Public
$ 25.00
Producers & Organizers (PRO) AFTERNOON Workshop Only - Members
$ 15.00
Producers & Organizers (PRO) AFTERNOON Workshop Only - General Public
$ 25.00
Storytelling in Organizations (SIO) Workshop: Story Acquisition: The Missing Link - Members
$ 20.00
Storytelling in Organizations (SIO) Workshop: Story Acquisition: The Missing Link - General Public
$ 30.00
Youth, Educators & Storytellers (YES) MORNING Workshop Only - Members
$ 20.00
Youth, Educators, and Storytellers (YES) AFTERNOON Workshop Only - Members
$ 20.00
Youth, Educators & Storytellers (YES) MORNING Workshop Only - General Public
$ 30.00
Youth, Educators, and Storytellers (YES) AFTERNOON Workshop Only - General Public
$ 30.00
Healing Stories Alliance (HSA) Kind Stories in Concert
$ 10.00
Individual Workshop/Panel Tickets
Workshop: Rock the Zoom (Story Aerobics) - Members
$ 30.00
Workshop: Rock the Zoom (Story Aerobics) - General Public
$ 40.00
Workshop: Folktale - A Window to Singularity within Diversity - Members
$ 30.00
Workshop: Folktale - A Window to Singularity within Diversity - General Public
$ 40.00
Panel: Stories in Living Color - Members
$ 30.00
Panel: Stories in Living Color - General Public
$ 40.00
Workshop: Life Maps: In From the Margins - Members
$ 30.00
Workshop: Life Maps: In From the Margins - General Public
$ 40.00
Workshop: Using the Combination of Music and Story to Connect Across Divides - Members
$ 30.00
Workshop: Using the Combination of Music and Story to Connect Across Divides - General Public
$ 40.00
Workshop: Hear Our Voices - Members
$ 30.00
Workshop: Hear Our Voices - General Public
$ 40.00
Workshop: First Steps Towards Peace - Members
$ 30.00
Workshop: First Steps Towards Peace - General Public
$ 40.00
Panel: Ambassadors of Change - Members
$ 30.00
Panel: Ambassadors of Change - General Public
$ 40.00
Panel: Fighting Stereotypes and Scapegoating - Members
$ 30.00
Panel: Fighting Stereotypes and Scapegoating - General Public
$ 40.00
Workshop: Story, Listening, Community and Social Change - Members
$ 30.00
Workshop: Story, Listening, Community and Social Change - General Public
$ 40.00
Workshop: Connect Through Stories; Connect for Life - Members
$ 30.00
Workshop: Connect Through Stories; Connect for Life - General Public
$ 40.00
Panel: What is NSN Accreditation and is it for me? - Members
$ 30.00
Panel: What is NSN Accreditation and is it for me? - General Public
$ 40.00
Workshop: Storytelling 101 - Members
$ 30.00
Workshop: Storytelling 101 - General Public
$ 40.00
Workshop: Growing Your Spirit With Story - Members
$ 30.00
Workshop: Growing Your Spirit With Story - General Public
$ 40.00
Workshop: Does the way you teach storytelling undercut empathy? - Members
$ 30.00
Workshop: Does the way you teach storytelling undercut empathy? - General Public
$ 40.00
Workshop: A Change the World Story - Members
$ 30.00
Workshop: A Change the World Story - General Public
$ 40.00
Individual Master Class Tickets
Master Class: In the Shoes of The Other - Members
$ 45.00
Master Class: In the Shoes of The Other - General Public
$ 55.00
Master Class: Forget Memory, Try Imagination! - Members
$ 45.00
Master Class: Forget Memory, Try Imagination! - General Public
$ 55.00
Master Class: Stories Build Bridges - Members
$ 45.00
Master Class: Stories Build Bridges - General Public
$ 55.00
Master Class: Sharing One World - Members
$ 45.00
Master Class: Sharing One World - General Public
$ 55.00
Individual Intensive Workshop Tickets
Intensive Workshop: On The Row: Storytelling from Arkansas' Death Row - Members
$ 50.00
Intensive Workshop: On The Row: Storytelling from Arkansas' Death Row - General Public
$ 60.00
Intensive Workshop: Command Performance: Techniques to Rule the Stage - Members
$ 50.00
Intensive Workshop: Command Performance: Techniques to Rule the Stage - General Public
$ 60.00
Individual Showcase Tickets
Showcase: Connecting Cultures Through Stories - Members
$ 15.00
Showcase: Connecting Cultures Through Stories - General Public
$ 20.00
Showcase: No, We Won't Shut Up! - Members
$ 15.00
Showcase: No, We Won't Shut Up! - General Public
$ 20.00
Showcase: Stories Build Bridges - Members
$ 15.00
Showcase: Stories Build Bridges - General Public
$ 20.00
Showcase: Untold Stories: Strong, Sassy, Silent No More - Members
$ 15.00
Showcase: Untold Stories: Strong, Sassy, Silent No More - General Public
$ 20.00
Showcase: Okay Boomer! Stories from Different Eras - Members
$ 15.00
Showcase: Okay Boomer! Stories from Different Eras - General Public
$ 20.00
Showcase: Magic Mix - Members
$ 15.00
Showcase: Magic Mix - General Public
$ 20.00
Showcase: Humanity, Healing, and Humor - Members
$ 15.00
Showcase: Humanity, Healing, and Humor - General Public
$ 20.00
Showcase: Connecting People around the World through Kamishibai - Members
$ 15.00
Showcase: Connecting People around the World through Kamishibai - General Public
$ 20.00
Showcase: Heading East to America - Members
$ 15.00
Showcase: Heading East to America - General Public
$ 20.00
Showcase: Unsocially Distanced - Members
$ 15.00
Showcase: Unsocially Distanced - General Public
$ 20.00
Showcase: Interfaith Storytelling - Members
$ 15.00
Showcase: Interfaith Storytelling - General Public
$ 20.00
Showcase: Outspoken LGBTQ Stories at Sidetrack - Members
$ 15.00
Showcase: Outspoken LGBTQ Stories at Sidetrack - General Public
$ 20.00
Showcase: 80 Minutes Around the World - Members
$ 15.00
Showcase: 80 Minutes Around the World - General Public
$ 20.00
Showcase: The Bonds that Bind us Together - Members
$ 15.00
Showcase: The Bonds that Bind us Together - General Public
$ 20.00
Showcase: Coming of Age with the KSU Tellers - Members
$ 15.00
Showcase: Coming of Age with the KSU Tellers - General Public
$ 20.00
Showcase: Ancient Wisdom from Asia through Folktales and Mythology - Members
$ 15.00
Showcase: Ancient Wisdom from Asia through Folktales and Mythology - General Public
$ 20.00
Individual Performance Tickets
Youth, Educators & Storytellers (YES) Story Swap - Members
$ 10.00
Youth, Educators & Storytellers (YES) Story Swap - General Public
$ 15.00
Grand Slam - Members
$ 10.00
Grand Slam - General Public
$ 15.00
ORACLE Recipient Concert - Members
$ 10.00
ORACLE Recipient Concert - General Public
$ 15.00
Individual Miscellaneous Event Tickets
HSA Annual Meeting & Social Hour - Members
$ 0.00
HSA Annual Meeting & Social Hour - General Public
$ 0.00
Keynote #1 - Members
$ 10.00
Keynote #1 - General Public
$ 15.00
ORACLE Award Ceremony - Members
$ 0.00
ORACLE Award Ceremony - General Public
$ 0.00
Producers & Organizers (PRO) Meet & Greet - Members
$ 0.00
Producers & Organizers (PRO) Meet & Greet - General Public
$ 0.00
Keynote #2 - Members
$ 10.00
Keynote #2 - General Public
$ 15.00
Storytelling in Organizations (SIO) Meet & Greet - Members
$ 0.00
Storytelling in Organizations (SIO) Meet & Greet - General Public
$ 0.00
YES Happy Hour - Members
$ 0.00
YES Happy Hour - General Public
$ 0.00
YES Membership Meeting
$ 0.00
Make an additional donation to NSN
$ 1.00
ERROR: percentagepricesetfield_NFMbsQAQVpVZkamC (Hint: Is the Percentage Price Set Field extension enabled?)
I understand and agree to the recording policy.
Admin Fee
$ 1.00