Jenni Cargill-Strong's video of Three Short Tales Told At A Rally, each carrying the message of unity and staying the course.
---
Donna Jacobs-Sife's video of the story of "Bat" – who is caught between birds who reject Bat as being a mammal, and mammals who reject Bat because of his wings and flight… Useful discussion builder…
---
Race Bridges – Includes over 160 video interviews with storytellers on their experiences with a range of topics including bullying, racism, confronting or being The Other, etc. Also contains resources for teachers, study guides, etc. A vital and expanding resource! Produced by Susan O'Halloran at Racebridgesstudio.com
---
Healing Voices-Personal Stories – Films created by the victims themselves, as part of the healing process for women experiencing domestic violence.
See also teleconference by Healing Voices director and board member Regina Ress at: Teleconference Recordings
Abbie Palache's video of "The Black Prince"
Diane Ferlatte's video of "Penny For Your Thoughts"
Mary Sue Siegel's video of "Everything we do matters"
Singing Grannies at Rally for Standing Rock in NYC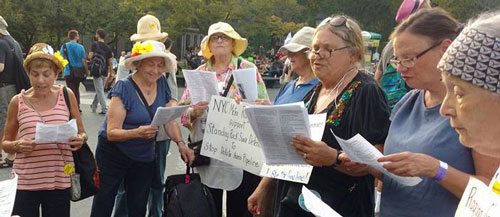 Story Links
The Storytelling Project Curriculum (Barnard/ Columbia University, focus on Civil Rights and Racism) http://www.columbia.edu/itc/barnard/education/stp/stp_curriculum.pdf
Americans All of Us – A new website offering stories and videos (as "a storyteller's toolkit for troubled times") on 3 topic areas: "Doing what you can", "The American Mosaic: honoring us and our stories,"and "Building Bridges". http://www.americansallofus.com