A Storytelling Sampler from the Porcupines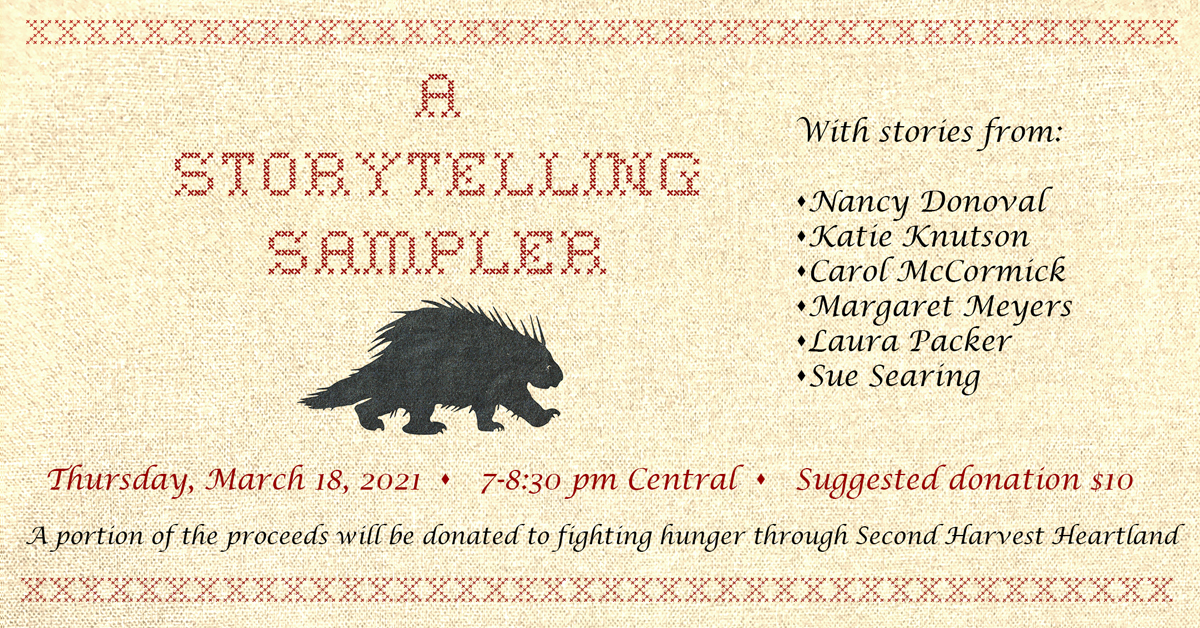 Six experienced storytellers stitch together a showcase sampler of tales--make-believe and true, serious and silly, ancient and new.
About this Event
We call ourselves The Porcupines. We're a group of women in the Twin Cities area who gather weekly to work on stories, practice telling them, and nurture friendship. Meetings continued during the COVID lockdown over Zoom, while opportunities to perform for wider audiences shrank. With this online program, we offer a sampler of the stories we've discovered and polished during the pandemic. Our stories reflect a range of styles and story types, including mythology, folk lore, literature, and original personal stories.
Emcee: Laura Packer
Featured tellers: Nancy Donoval, Katie Knutson, Carol McCormick, Margaret Meyers, Laura Packer, Sue Searing
Tickets at: https://www.eventbrite.com/e/storytelling-sampler-from-the-porcupines-tickets-144127151189. You must order a ticket to receive the Zoom link. The suggested price is $10 but our program is open to all. We provide options to set your own price or to attend for free. All of us are full-time or part-time professional tellers whose income has been reduced by the pandemic. Donations will be split evenly among the tellers, with a portion set aside for Second Harvest Heartland to feed the hungry in our communities.
A Storytelling Sampler from the Porcupines