Asian American Stories on Monday Night MarshStream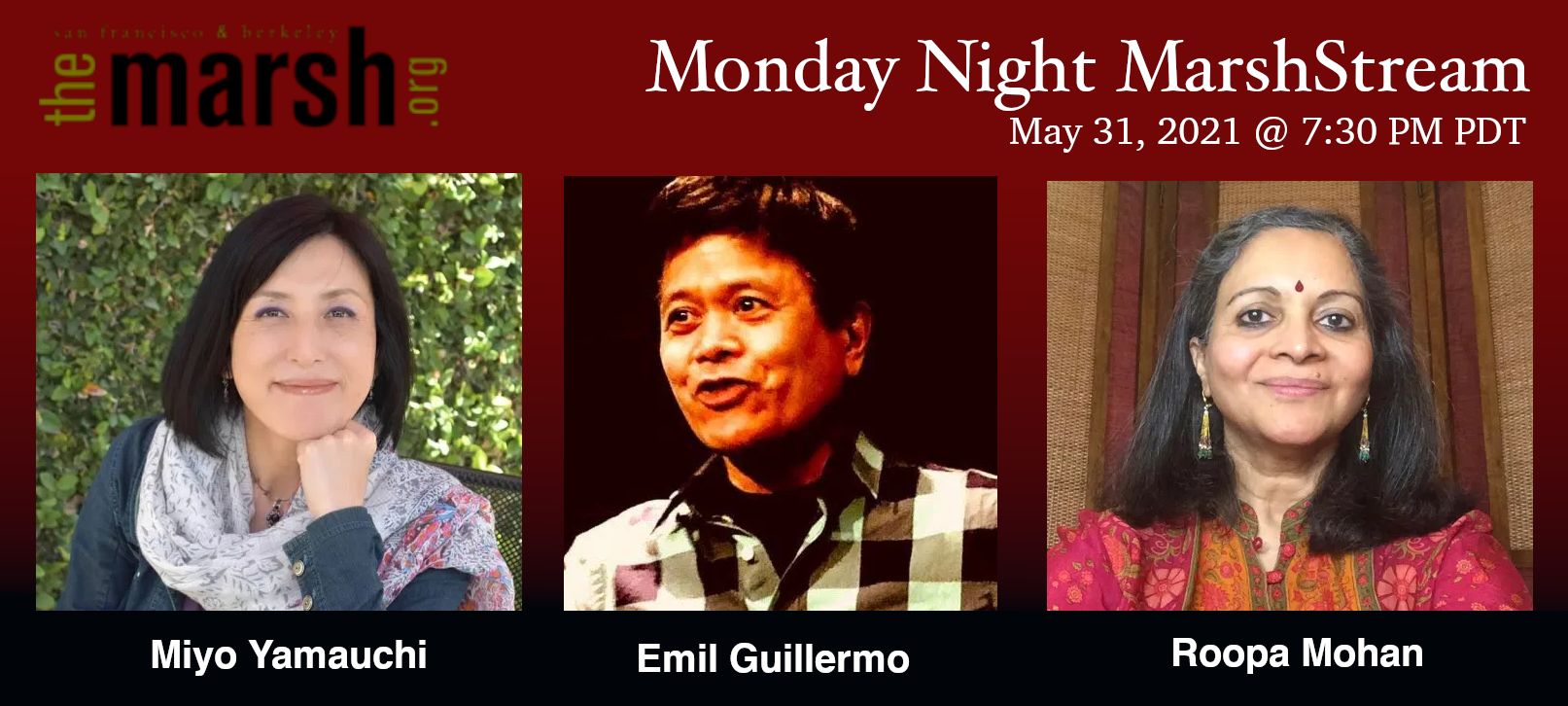 On Monday, May 31 @ 7:30 PM PDT, join us for the fun evening with three Asian American storytellers!
Born and raised in Japan, Miyo Yamauchi brings a unique perspective and sense of humor to storytelling. Her insatiable curiosity about life, people and the world leads her on many adventures and results in stories that delight her audience. She regularly performs at the Fanatic Salon Theater, Strong Words, This Much Is True, other spoken word events, and the StoryMasters club. During the day, she works as a computer programmer for UCLA, writing narratives for computers to perform.
Roopa Mohan is a first generation Indian American storyteller from Walnut Creek, CA. (She is not new to Marsh…debuted here last year) . She enjoys telling folktales and sacred stores to school groups around the art objects at the Asian Art Museum in San Francisco. She also trained to be a school docent there and has now made the transition from gallery to virtual tours. She serves on the Board of the Storytelling Association of California, leading the Jenny Fund Project to introduce storytelling to teachers and students in underserved schools. Her repertoire has expanded to personal stories about growing up in India and her early immigrant experiences. She strongly believes that storytelling builds bridges and enables us to celebrate our wonderful diversity!
Emil Guillermo is a former host of NPR's "All Things Considered," an American Book Award winner, veteran journalist and commentator, who talks about being an Asian American Filipino with humor and insight.
Starting from classes at the Marsh, he's developed stories that make up his "Amok Monologues." He performs at fringe festivals and story shows around the country. His "Emil Amok" column on life as an Asian American in the U.S. has run each week for more than 25 years and is now on the Asian American Legal Defense and Education Fund website. (http://www.aaaldef.org/blog)
Asian American Stories on Monday Night MarshStream