Auburn Winter Storytelling Festival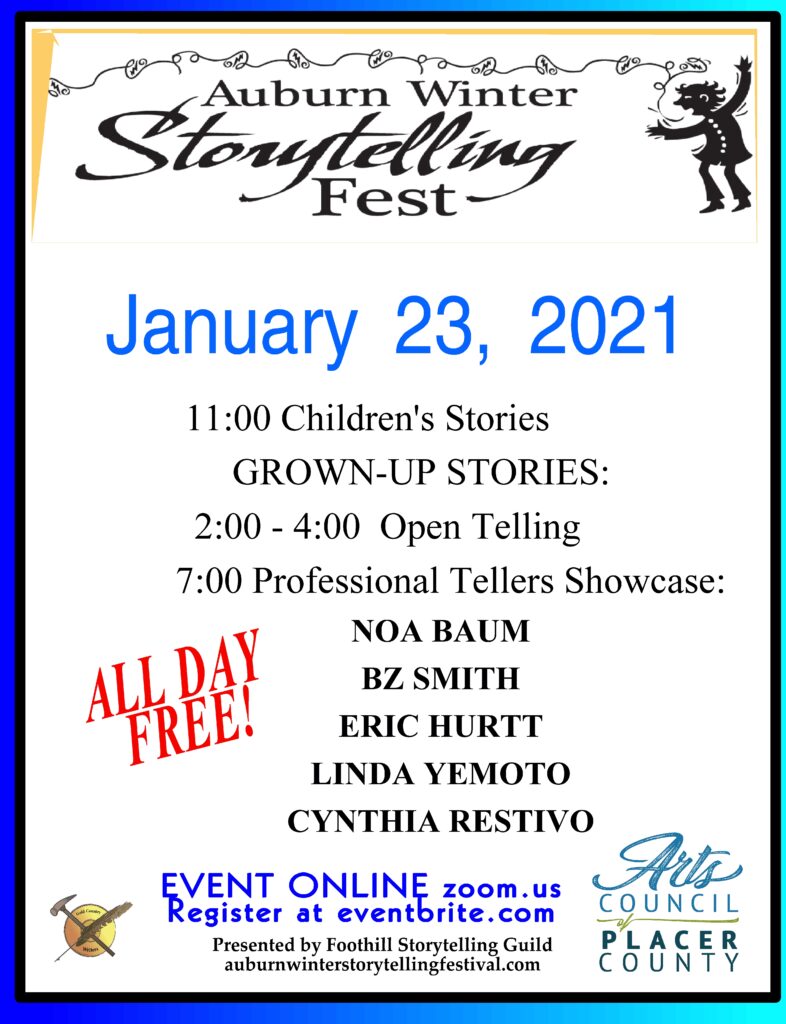 January 23, 2021 One day – all day -- Times listed below are set at CST. However, the entire event is based on Eastern Standard Time -- so please adjust accordingly to your own time zones.
Children's stories start at 11am; Open Telling is 2 to 4pm; featured PROFESSIONAL tellers at 7pm Pacific TIMES LISTED BELOW ARE BASED ON THE CENTRAL TIME ZONE -- HOWEVER, THE ENTIRE EVENT WILL TAKE PLACE IN THE EASTERN TIME ZONE -- PLEASE ADJUST THE START TIMES TO YOUR OWN TIME ZONES.
FREE but must register at eventbrite.com search Auburn
Link to zoom.us meeting will be sent the day before the event
The Auburn Winter Storytelling Festival has been bringing the art of telling in the oral tradition to the Northern California community for five years. On January 23, 2021, the event will be presented as an online event on zoom.us. Registration is on eventbrite.com with the zoom link being sent the day before the program. The same link can be used throughout the day for any of the programs. There will be three times during the day for different events. At 11 am Ed Lewis and Linda Kennedy will entertain children with stories and songs. At 2 pm is Open Telling where those who signed up when they registered can tell a five-minute story. Maybe a personal story, a folktale, or the audience favorite, a tall tale. In the evening five PROFESSIONAL tellers will have 20 minutes to tell tales:
Noa Baum - Multi-cultural traditional folktales including Jewish heritage
Eric Hurtt - Sacramento and Gold Country stories of the California Gold Rush
Cynthia Restivo - Storyteller who spent many years with the International Theatre
BZ Smith - Award winning teller of true-life tales & stories from her indigenous roots
Linda Yemoto - Asian folktales and favorite nature stories for the whole family
The Auburn Winter Storytelling Festival is free to the public because of the generosity of our sponsors, the Arts Council of Placer County, Poets & Writers, Gold Country Writers, and the Sacramento Storytelling Guild. For more info: auburnstorytellingfestival.com and Facebook.