Bruce Marcus Featured at Story Space online Tue 12/08/2020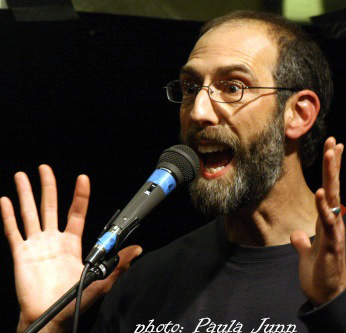 The Story Space online
Every Tuesday from 6:45-9:00 P.M. EST
Note: Starting Tuesday, Nov. 3rd, we will be back on EST (Eastern Standard Time): 5 hours behind GMT, or UTC-5.
To attend the event
1. go to http://www.StorySpace.org
2. Click on the word invitation for all the instructions
including how to put your name in the tin for open telling.
New content is posted each Tuesday morning.
To learn more or be on our mailing list send email to: info@storyspace.org
There is an $8 requested donation: http://www.storyspace.org/Kitty.asp.
Bruce Marcus:
Called "MY SON!" by late storytelling legend Brother Blue – loudly, publicly, emphatically and often –Bruce has been regaling audiences with his fresh-as-mint original stories, poems and songs throughout New England and beyond for three full decades. On this occasion – his 60th birthday! – he presents crackling new material, crafted mainly during a very productive COVID era and almost entirely in rhyme!
An occasional story slam winner and seasoned emcee, Bruce has been featured in many spoken word, coffeehouse, cable TV and other performing arts series, as well as at many festivals and on PBS World Channel's Stories from the Stage. He serves as a committee member, feature coordinator and frequent host for this long-running weekly Boston area storytelling series started in 1992 by Brother Blue and Ruth Edmonds Hill, now known as The Story Space. (Yes, he booked himself as tonight's feature…)
Feature's website: http://www.nestorytelling.org/bruce-marcus/
There is an $8 requested donation.
Every Tuesday night is Story Space from 6:45 – 9:00 P.M. EST.
Storytelling of all types and styles in a friendly, cooperative venue where seasoned tellers and newcomers alike are received with full attention.
There are no content restrictions, other than prohibiting deliberately offensive language.
Try out a new story, spin an old favorite, or just listen.
No Topics. No Competition. No Judging. Just Stories.
In the spirit of Brother Blue.
There is an $8 requested donation. http://www.storyspace.org/Kitty.asp.
Signup for Open Telling (8-minute slots) starts at 6:45 P.M. EST.
Open Telling starts at 7:00 P.M. EST sharp.
Then around 8:00 P.M. EST we have the Featured Teller.
Story Space website: http://www.storySpace.org/
Story Space Face Book page: https://www.facebook.com/The-Story-Space-177178758969270/
Story Space eMail: info@StorySpace.Org
"Program Subject to Change"
www.storySpace.org
Bruce Marcus Featured at Story Space online Tue 12/08/2020