Chuck Brodsky Featured at Story Space online Tue 12/15/2020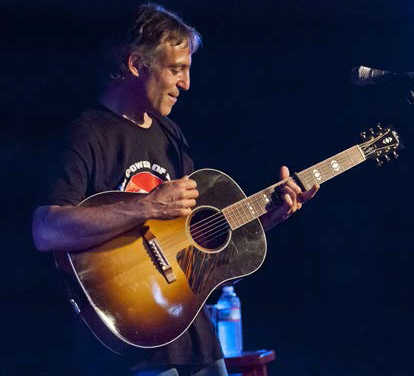 The Story Space online
Every Tuesday from 6:45-9:00 PM EDT
To attend the event
1. go to http://www.StorySpace.org
2. Click on the word invitation for all the instructions
including how to put your name in the tin for open telling.
New content is posted each Tuesday morning.
To learn more or be on our mailing list send email to: info@storyspace.org
There is an $8 requested donation: http://www.storyspace.org/Kitty.asp.
Chuck Brodsky:
is a storytelling, songwriting, modern-day troubadour whose genuine warmth and quirky, finely crafted songs touch hearts, funny bones and a nerve or two. With irony and wit, his twelve CDs celebrate the eccentric, holy, courageous, inspiring and the beautiful, while poking fun at what needs poking.
After a few years busking in Europe and picking fruit, Chuck began performing around northern California in the late 1980's. Over the past 28 years he's played concerts all across the USA and in eleven countries. Several of his songs have appeared in movies and on tv, while others have been covered by artists as diverse as David Wilcox, Kathy Mattea, The African Children's Choir of Uganda, and Frogwings (with Warren Haynes and Derek Trucks). The National Baseball Hall of Fame, where he's performed 3 times, has dubbed him "Baseball's Troubadour Poet Laureate."
Feature's website: http://www.chuckbrodsky.com/
There is an $8 requested donation.
Every Tuesday night is Story Space from 6:45 – 9:00 P.M. ET.
Storytelling of all types and styles in a friendly, cooperative venue where seasoned tellers and newcomers alike are received with full attention.
There are no content restrictions, other than prohibiting deliberately offensive language.
Try out a new story, spin an old favorite, or just listen.
No Topics. No Competition. No Judging. Just Stories.
In the spirit of Brother Blue.
There is an $8 requested donation. http://www.storyspace.org/Kitty.asp.
Signup for Open Telling (8-minute slots) starts at 6:45
Open Telling starts at 7:00 P.M. EDT sharp.
Then around 8:00 PM EDT we have the Featured Teller.
Story Space website: http://www.storySpace.org/
Story Space Face Book page: https://www.facebook.com/The-Story-Space-177178758969270/
Story Space eMail: info@StorySpace.Org
"Program Subject to Change"
www.storySpace.org
Chuck Brodsky Featured at Story Space online Tue 12/15/2020