Come As You Are Online Storytelling Show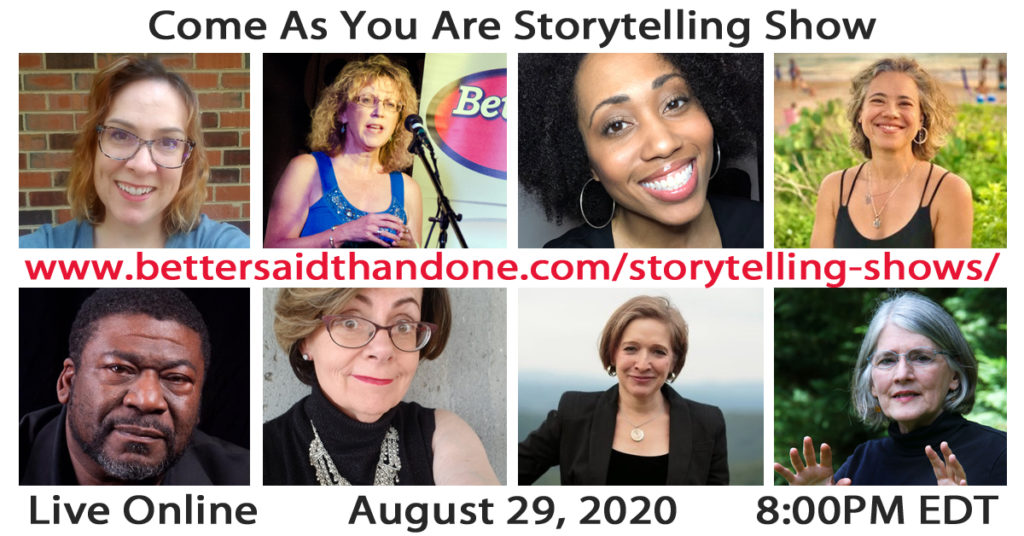 Join Better Said Than Done for our live, online, "Come As You Are," Storytelling Show -featuring storytellers from all over the country.
Join host Jessica Robinson (VA), and storytellers Ray Christian (NC), Jane Dorfman (MD), Carol Moore (DC), Giselle Ruzany (VA), Cathy Smith (MD), Kathy Stershic (VA), and Ruth Walkup (VA) for a great night of storytelling intended for a mature audience.
Pay what you can. It's a $5 minimum. Proceeds split among storytellers.
Register soon. Ticket sales close at showtime.
And, since we won't see you, come as you are.
Storytellers will perform from the comfort and safety of their own homes.
Suggested contribution $15 per attendee. Minimum $5. Proceeds will be divided among the storytellers.
Come As You Are Online Storytelling Show