Get Stuffed 2020 - A Better Said Than Done Storytelling Celebration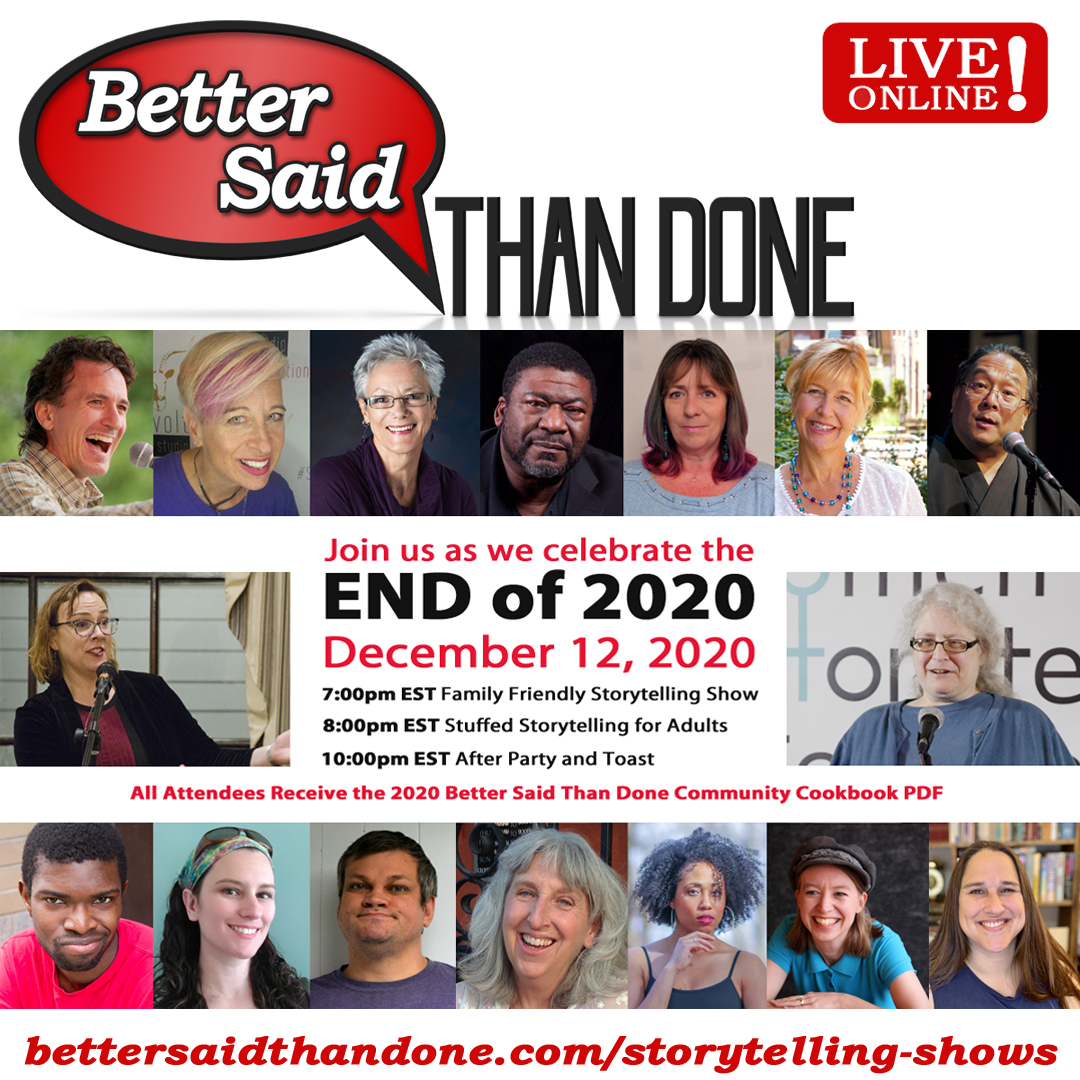 Join Better Said Than Done storytellers as we celebrate the END OF 2020.
On December 12, 2020, we're hosting a Family Friendly Early Performance, getting stuffed on a Storytelling Show for adults, sharing recipes in our Recipe Exchange, and then opening Zoom for the After Party!
We'll send the PDF of recipes out on December 7 (and again on show day) so you can prepare an entree, dessert, or cocktail in time for the show!
$5 minimum/$20 or $30 Suggested contribution
Details and register here: https://www.bettersaidthandone.com/2020/11/15/get-stuffed-2020/
SCHEDULE OF EVENTS
7:00pm EST – Tailgate Performance
Family Friendly Storytelling – Hosted by Miriam Nadel
With Storytellers Allen DeBey, Rachel Hedman, Misty Mator, Carol Moore, Nicolette Nordin Heavey, & Kristin Pedemonti!
8:00pm EST – Stuffed Storytelling Show – Hosted by Jessica Robinson
Stories about eating, cooking, and overdoing it
With Storytellers Calvin S. Cato, Ray Christian, Alton Chung, Claire Hennessy, Angela Lloyd, Jennifer Munro, Sharon Price Singer, and Antonio Sacre!
10:00pm EST – After Party and Toast
We'll raise a glass to bid 2020 a not-at-all-fond farewell! Audience members who would like to, will be admitted "into the room" and given the option to share their video and audio – and thoughts – as we open up zoom.
Pay-what-you-think-it's-worth. Any contribution gets you the recipe "book," as well as a login to the Zoom room, starting at 7pm EST and continuing until the party's over.
Get Stuffed 2020 - A Better Said Than Done Storytelling Celebration