Laura Simms Featured at The Story Space online, Tue 01/19/2021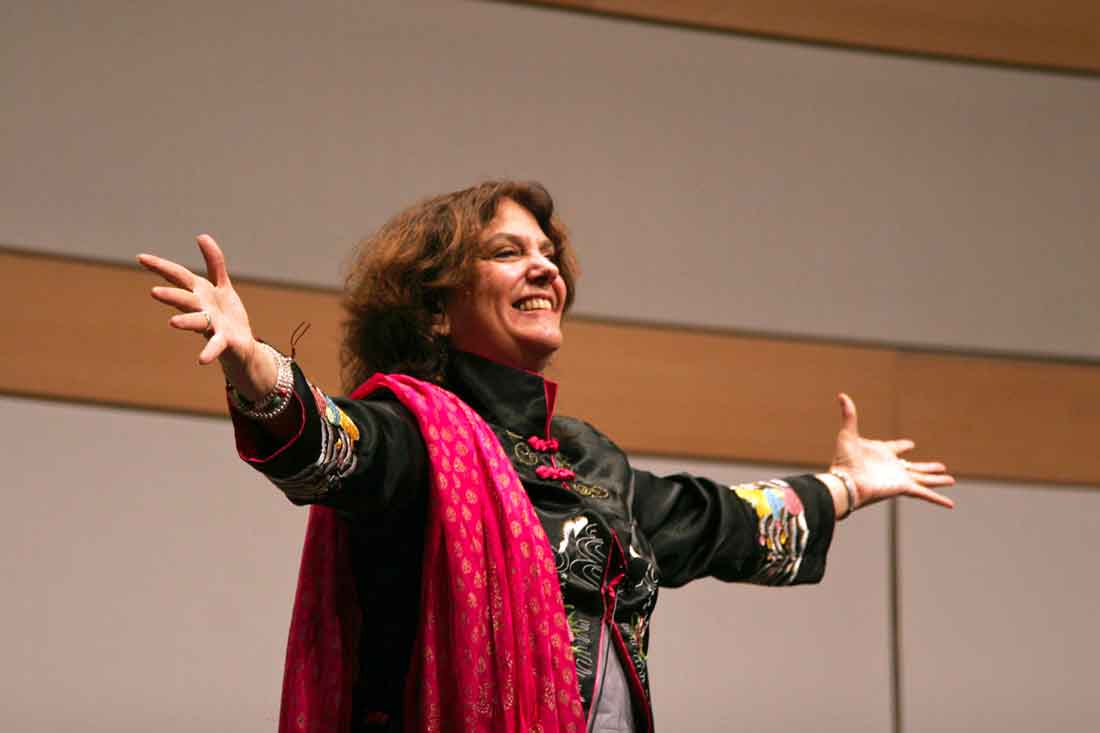 The Story Space online
Every Tuesday from 6:45-9:00 P.M. EST
Note: We are back on EST (Eastern Standard Time): 5 hours behind GMT, or UTC-5.
To attend the event
1. Go to http://www.StorySpace.org
2. Click on the Meeting Invitation link in the Banner for the instructions
(A new invitation will be posted every Tuesday morning).
To learn more, or be on our mailing: info@storyspace.org
There is an $8 requested donation: http://www.storyspace.org/Kitty.asp
(Donation is separate from entry, and you can donate at any time).
Laura Simms:
Laura Simms has been telling stories for decades combining fairytales and myths with personal narrative. She is known for her rivetting voice, depth of telling and zany humor. She lives in Manhattan and travels the world. Laura is also a teacher of engaged storytelling and mindfulness and is an author. She has told stories in theaters, refugee camps, zoos, palaces, schools, festivals , ancient ruins, gardens and in her living room on Zoom. She is writing her fourth book: Wild Rose: Summoning The Restoration of the World about a single fairytale, botany and her mother.
Feature's website: http://www.laurasimms.com/
There is an $8 requested donation.
The Story Space runs every Tuesday Night from 6:45 – 9:00 P.M. EST.
Storytelling of all types and styles, in a friendly, cooperative venue where seasoned tellers and newcomers alike are received with full attention.
There are no content restrictions, other than prohibiting deliberately offensive language.
Try out a new story, spin an old favorite, or just listen.
No Topics. No Competition. No Judging. Just Stories.
In the spirit of Brother Blue.
There is an $8 requested donation. http://www.storyspace.org/Kitty.asp.
Signup for Open Telling (8-minute slots) starts at 6:45 P.M. EST.
Open Telling starts at 7:00 P.M. EST sharp.
Followed by the Featured Teller at around 8:00 P.M. EST.
To learn more, or be on our mailing list: info@StorySpace.Org
"Programs Subject to Change"
www.storySpace.org
Laura Simms Featured at The Story Space online, Tue 01/19/2021