Life Story Transformation - 6-Week Online Workshop
July 27, 2021 – August 31, 2021 –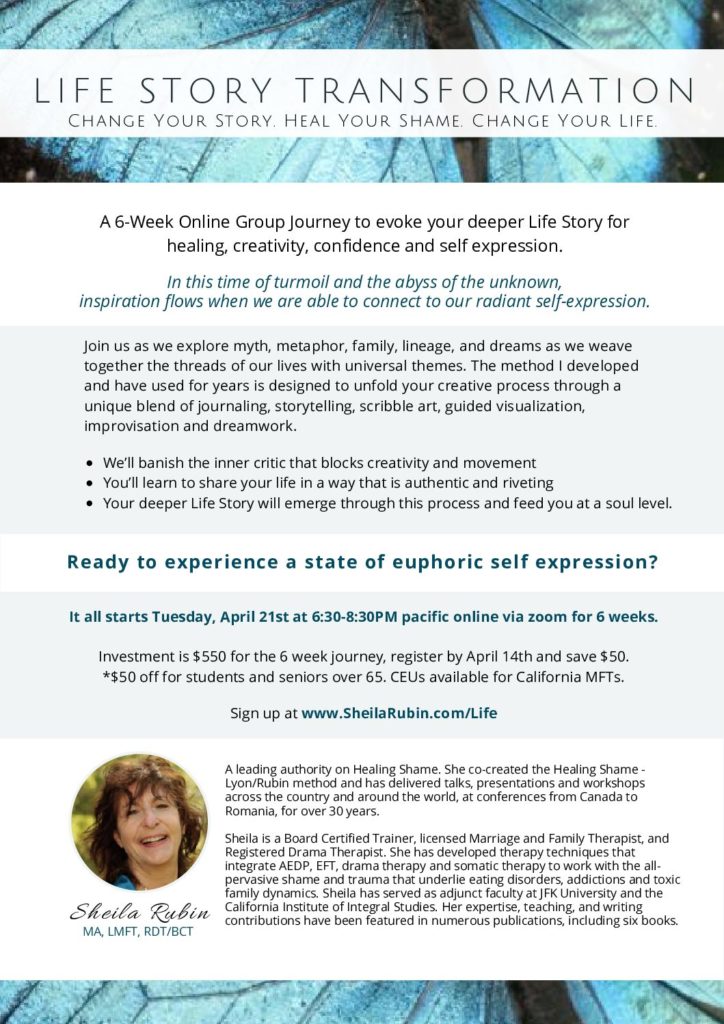 Life Story Transformation
A 6-week online group journey to evoke your deeper Life Story for healing, creativity, confidence and self-expression.
In this time of turmoil and the abyss of the unknown,
inspiration flows when we are able to connect to our radiant self-expression.
6 Tuesdays: April 21-May 26
6:30-8:30pm Pacific Time
Online via Zoom
Join us as we explore myth, metaphor, family, lineage, and dreams as we weave together the threads of our lives with universal themes. The method I developed and have used for years is designed to unfold your creative process through a unique blend of journaling, storytelling, scribble art, guided visualization, improvisation and dreamwork.
• We'll banish the inner critic that blocks creativity and movement.
• You'll learn to share your life in a way that is authentic and riveting.
• Your deeper Life Story will emerge through this process and feed you at a soul level.
Investment is $550 for the 6-week journey. Register by April 14th and save $50.
*$50 off for students and seniors over 65.
CE credits available for California MFTs.
Sign up at www.SheilaRubin.com/Life
Life Story Transformation - 6-Week Online Workshop