LOONS Storytelling Guild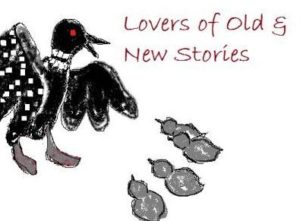 L.O.O.N.S is actually Lovers Of Old & New Stories, a Storytelling Guild that meets monthly. Our members share a love of story, but a rich collection of different perspectives on how to best express that passion. Our interests range from sharing personal stories, to performing as a costumed historical reenactor, to telling with puppets, to bringing folk tales from other cultures to life. We are delighted by minstrelsy, tales for adults, children and teens, mime, and more.
Our meetings are open to the public, and we welcome listeners as well as tellers.
You can also join us online through ZOOM video conference.
Please contact hope3944@gmail.com for information or to receive a ZOOM link to join us from your computer.