LVSG Family Series: SENSE-ational Stories with Karen Maurer
February 21-22, 2021 All Day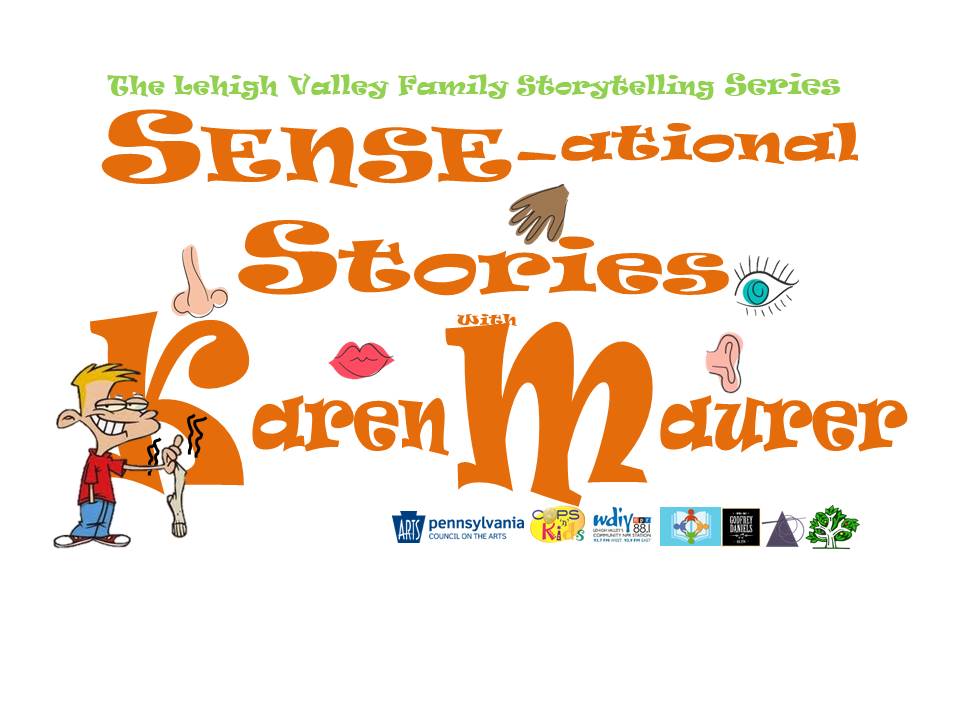 SENSE-ational Stories!
featuring storyteller
Karen Maurer
SUNDAY
February 21, 2021
virtually @ your convenience
Running Time: Approximately 45 minutes.
LVSG and storyteller Karen Maurer invite audiences to experience SENSE-ational Stories as part of the LVSG Family Storytelling Series, virtually all day, February 21.
Register Now.
About this Event
Lehigh Valley Storytelling Guild continues its Family Storytelling Series with SENSE-ational Stories featuring Karen Maurer and her multi-sensory and terrifically tactile tales for kids of all ages, on Sunday, February 21. This virtual and pre-recorded program will be available for all-day viewing. Running Time is approximately 45 minutes. Registration is required. This is a PWYW event. Suggested minimum donation: $5/family.
According to Denise McCormack, the series coordinator and creative producer, "The Family Series is a wonderful opportunity to introduce people of all ages to the art of storytelling and to a wide variety of storytellers with all kinds of stories and styles of telling. This year, we're especially excited to outreach to our local community as well as to a whole new scope of newcomers by means of virtual presentations. We expect that each month will bring something new and improved as we work to adapt and hone this new world of technology in a way that preserves the integrity and grip of the storytelling experience. "
About the Teller
Karen Maurer has a remarkably storied background as a library youth services coordinator, writer, and blogger of children's literature, She tells tales to all ages, coaches and runs Storytelling Workshops for children and teens, and writes songs for Chiles' Play, a children's musical duo with her brother, Dan. Maurer has engaged audiences with her storytelling for more than two decades, is a member of the LVSG board , an advisor to the Patchwork community, and a presenter and reviewer of books for middle grades and teens for area literature conferences and on her blog, booksnstories.blogspot.com.
About the Lehigh Valley Family Storytelling Series
Lehigh Valley Storytelling Guild presents storytelling programs for the whole family with the LVSG Family Storytelling Series beginning on December 20, 2020 with SNOW! Stories and Songs of the season and of Long Ago featuring storyteller Denise McCormack. This virtual and pre-recorded program will include traditional tales and holiday favorites and will be available for all day viewing. Running Time is approximately 45 minutes. Registration is recommended. PWYW. Suggested minimum donation: $5/family.
The LVSG Family Storytelling Series will run virtually from December through June, feature a unique teller and theme each month from December through May, and conclude with a variety showcase of tellers and tales in June. As in past years, we are delighted to partner with local libraries, Godfrey Daniels, and Cops N Kids. The series is free and open to the public. Registration required. Donation suggested: $5/household.
More details to follow.
Register Now.
Recent & Upcoming Shows and Featured Tellers in 2020-2021
December 20 —
Denise McCormack: Snow! Stories and Songs of the Season and of Long Ago
January 17 —
Ingrid Bohn: Imagine a Story
February 21 —
Karen Maurer: SENSE-ational Stories
March 21 —
Rob Aptaker: Native American How Stories
April 18 —
Judy England-McCarthy: Wild West Show
May 16 —
Robin Reichert: Dragons and Other Enchantments
June 20 —
TBD Showcase Entertainment
A TREAT FOR THE WHOLE FAMILY
LVSG Family Series: SENSE-ational Stories with Karen Maurer