MONONA PUBLIC LIBRARY 13th ANNUAL TELLABRATION!™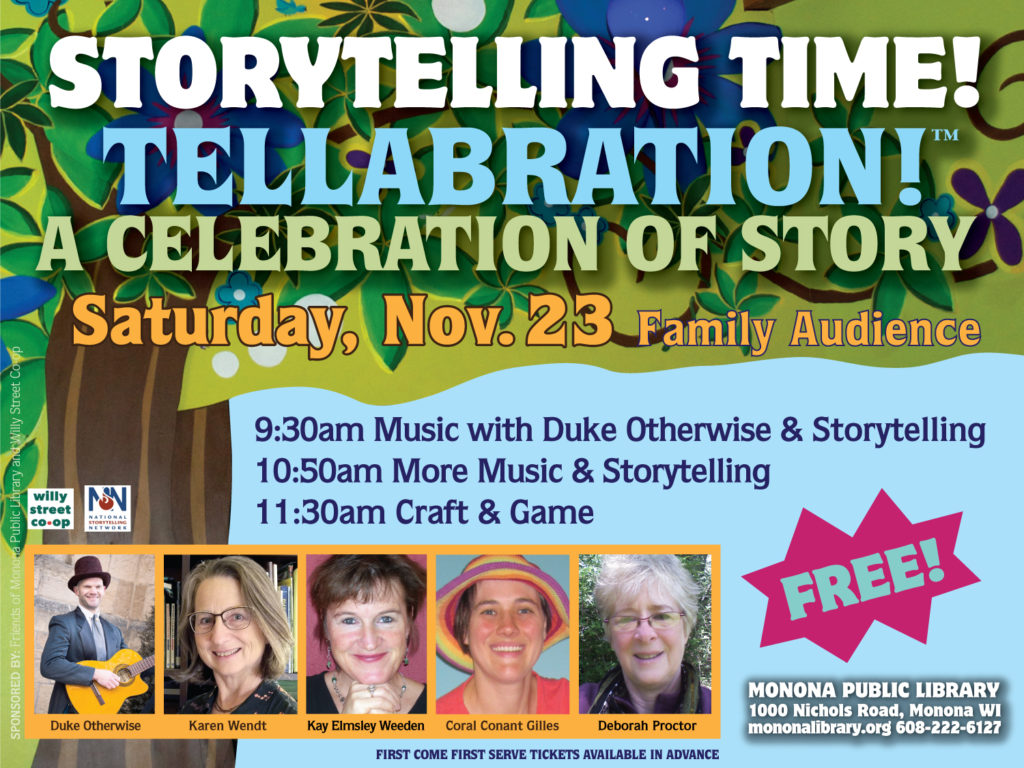 Monona Public Library is hosting the 13th annual TELLABRATION!™. TELLABRATION!™ is a worldwide celebration of the art of storytelling where storytellers will share their talents in concerts held in different cities and towns all around the world. On a local level, TELLABRATION!™ brings together acclaimed professional and amateur storytellers from the area to delight, captivate, and mesmerize the audience with their stories.
The week of TELLABRATION!™ will consist of several virtual storytelling and music concerts with artists sharing stories from a variety of genres! Stories range in interest level from the youngest listeners to tweens and teens. Nationally acclaimed and local storytellers and musicians will be featured including Master Storyteller, historic character interpreter and teaching artist, Sheila Arnold; award-winning multicultural, multilingual storytelling family Sadarri Saskill & Amber Volmar Saskill; bilingual storyteller Kay Elmsley Weeden; Youth Services Coordinator Karen Wendt; Wisconsin Master Naturalist Deborah Proctor; and musicians Duke Otherwise and Jim Gill.
The virtual events are free and will be held on Monona Public Library Facebook Live and the library website, and on Zoom. Events include:
Tuesday, November 17 at 9:30am Sheila Arnold. On Zoom & streaming to Facebook.
Thursday, November 19 at 4:30pm Duke Otherwise, Kay Weeden, Karen Wendt. On Zoom & streaming to Facebook.
Saturday, November 21 starting at 10:30am pre-recorded and available for 24 hours from Monona Public Library website Tellabration page.
Registration information is available at https://www.mymonona.com/1109 or contact karen@mononalibrary.org or by calling the Monona Public Library at 608-222-6127.
For more information on the TELLABRATION!™ events and the performers, contact Karen Wendt, Youth Services Coordinator at Monona Public Library, or visit: mononalibrary.org, and click on TELLABRATION!™ This event is sponsored by: The Friends of Monona Public Library. "TELLABRATION!™ is a trademark of the National Storytelling Network."
MONONA PUBLIC LIBRARY 13th ANNUAL TELLABRATION!™