Teddy Roosevelt, Presented by Greenville Chautauqua, History Comes Alive!
Hughes Main Library
25 Heritage Green Place
United States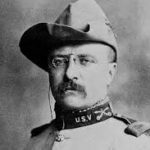 Winter Chautauqua kicks off the 2020 theme of "Reinventing America," with Teddy Roosevelt! Come hear his story in his own words.
What better way to "Reinvent America" then with the Rough Rider, Nobel Prize winning President who stepped down at the height of his popularity to four years later bolt the Republican Party and challenge his hand-picked successor? In ninety days, Roosevelt's "Bull Moose" Party humbled a sitting president and decisively beat a party that had dominated national politics for forty years. American politics was never then same again.
Get ready to flat out be amazed as you meet – Teddy Roosevelt. You'll laugh – you'll be challenged – you'll have lots of questions. And as always at Chautauqua, the audience is part of the show. Bring your stories. Share your experiences. Get inspired. Because it's not just history – it's personal.
The format of a Chautauqua performance takes the audience to another time and includes an approximately thirty to forty-minute costumed performance by the performer, followed by a question and answer session with the audience and the character. The character can only answer questions within his or her lifetime. After that, the performer 'breaks character' and answers audience questions as an expert on that character. "The audience is as much of the show as the performer is," says Caroline McIntyre, Greenville Chautauqua Administrator and performer. "Often our greatest insights are from the interaction of the audience with these characters."
Two, free, live shows, Feb 1 &2 at 2pm at the Wade Hampton High School Auditorium. Feb 2 show is sign interpreted for the hearing impaired.