The 2021 virtual Women's Storytelling Festival
March 19, 2021 – March 21, 2021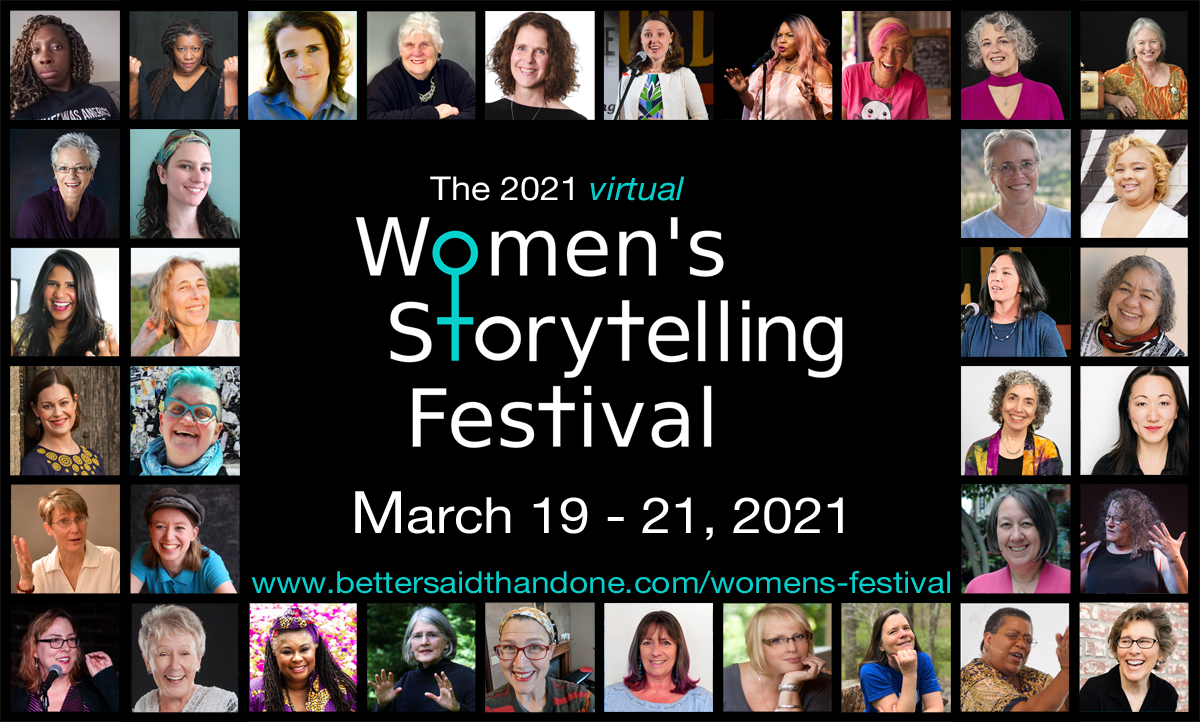 The 2021 virtual Women's Storytelling Festival - produced by Better Said Than Done - will take place Friday March 19, 2021 through Sunday March 21, 2021, all online. With 36 female storytellers including Lyn Ford, Robin Bady, Jennifer Munro, Kim Weitkamp, Sheila Arnold, Ingrid Nixon, Mo Reynolds, Donna Washington, and Megan Hicks.
In addition to storytelling performances, the NSN is hosting a Story Slam at the festival Saturday night, and a coffee social Sunday morning. There will also be a Story Swap. All events are open to festival ticket holders. A portion of the proceeds will be donated to the NSN upon conclusion of the festival.
We will begin live streaming it on Friday, March 19th, at 6:00pm Eastern. Ticket holders will also be given links to recordings of all Festival events (other than the Story Swap, Story Slam, and Coffee Talk) to watch over the course of 2 weeks following the festival.
Details and Tickets Here:
https://www.bettersaidthandone.com/womens-festival/
Here's the full list of the 2021 Women's Storytelling Festival STORYTELLERS!
Mary Theresa Archbold, Sheila Arnold, Robin Bady, Carol Birch, Sarah Brady, Laura Deal, Jane Dorfman, Lyn Ford, Bonnie Gardner, Rachel Hedman, Claire Hennessy, Megan Hicks, Arthuretta Holmes-Martin, Priscilla Howe, Jennifer Kamara, MJ Kang, Rona Leventhal, Jenice Matias, Misty Mator, Jennifer Munro, Vijai Nathan, Ingrid Nixon, Laura Packer, Kristin Pedemonti, Mo Reynolds, Cindy Rivka Marshall, Jessica Robinson, Margarita Rozenfeld, Ellouise Schoettler, Sarah Snyder, Regina Stoops, Sage Tyrtle, Diana Veiga, Donna Washington, Kim Weitkamp, and Andrea Young.
The 2021 virtual Women's Storytelling Festival