The Art & Heart of Storytelling: Up Front Stage Presence & Deep Listening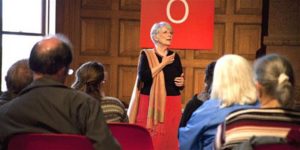 Up Front: Stage Presence & Deep Listening
Afternoon Session:
2:00 – 4:30pm $50 ($39 if paid by March 22)
Confidence, ease, and clear, compelling communication all come from a calm center. Whether it is the boardroom, a family gathering, school assembly, or main stage - this master class is for those wanting to cultivate stage presence with confidence and style. Join Connie as she creates a compassionate and playful atmosphere, where participants:
• Identify and encourage your "creative center" to reduce fear and eliminate performance anxiety
• Breathe new life into your stories and develop a fresh connection through 'deep listening'
• Nurture spontaneity from the first approach to the stage, through final bows
In addition, three participants will have an opportunity to tell and receive appreciations and feedback.