The Return: Stories of Homecoming and Comebacks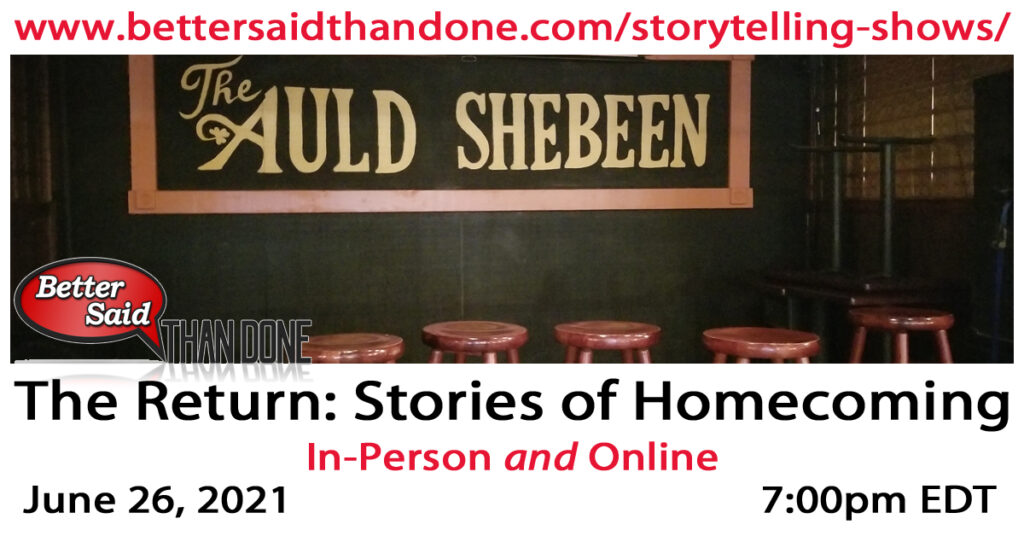 Better Said Than Done returns to in-person shows in Fairfax, VA!
On June 26, 2021, join emcee and storyteller Jack Scheer, and storytellers Richard Barr, Sarah Brady, Catherine Calvin, Vijai Nathan, and Diana Veiga for "The Return: Stories of Homecoming and Comebacks," both in-person at The Auld Shebeen in Fairfax, VA and live streaming online.
https://www.bettersaidthandone.com/2021/05/30/return-to-the-auld-shebeen/
PLEASE NOTE: THIS SHOW IS AT 7:00PM EDT.
$5 Minimum for Virtual Only/$13 to $15 for In-Person
Due to wanting to maintain social distancing in-person, tickets at The Auld Shebeen are limited. Register early.
Each of the 6 storytellers will be sharing 10 minute stories on the theme.
We plan to live stream this show to Youtube starting at 7:00pm Eastern on June 26th. When you register, you will get an email to watch the live stream.
If you are attending in person, your name will be put on the list at the door. We recommend arriving at least 15 minutes before showtime.
PLEASE NOTE: Once the show starts, we cannot respond to emails. PLEASE double check you have your registration before 7pm on June 26th!
The Return: Stories of Homecoming and Comebacks