Word Plays: Priceless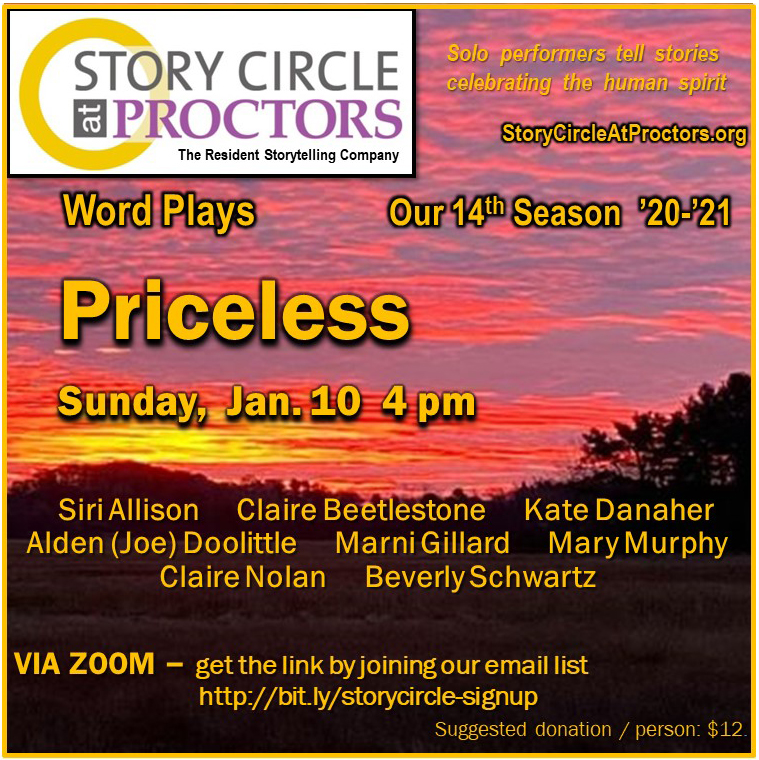 The best things in life aren't things.
Your family is priceless.
Happiness and passion are priceless.
Self-esteem is priceless.
Come hear eight priceless stories (personal, historical, folktales and a literary tale) told by storytellers Siri Allison, Claire Beetlestone, Kate Danaher, Alden (Joe) Doolittle, Marni Gillard, Mary Murphy, Claire Nolan, and Beverly Schwartz
Story Circle at Proctors is in its 14th season of Word Plays., on the second Sunday of September - November, January - April, at 4-6 pm on Zoom.
Get the Zoom link by joining their email list http://bit.ly/storycircle-signup .
If you're one of those people who lingers in your car long after reaching a destination just to hear the end of Garrison Keillor's "The News from Lake Wobegon" or Ira Glass on "This American Life," then Word Plays may be for you.
Many performers will be telling during this season. At each Word Play, a different group of performers tell rarely heard contemporary and traditional stories about celebrating the human spirit. You will discover that Word Plays is a shared experience between the audience and the performer, combining the intensity of a solo performer with the intimacy of a face-to-face conversation.
Click here http://www.storycircleatproctors.org/youtube.shtml to watch many of our performers tell stories.
Click here http://www.storycircleatproctors.org/performers.shtml to find out about our performers.
Price: Pay by performance: Suggested donation per person per performance: $12 Become a Season Patron: Suggested donation per person for our seven-performance season: $60 We realize that many people have been financially impacted by COVID-19. Any amount that you are able to donate will be greatly appreciated.
Donate here http://bit.ly/storycircle-donate.
Or send a check made out to "STORY CIRCLE" to
Kate Dudding, 8 Sandalwood Drive, Clifton Park, NY 12065.