Drawing by Robert C. Smith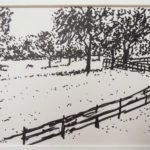 6" x 8" Drawing by Robert C. Smith, (12"x14" matted).
Robert C. Smith (1926-2018) was an accomplished draftsman, painter, photographer, sculptor, and fountain designer, as well as a professor emeritus in the Sam Fox School of Design & Visual Arts at Washington University in St. Louis. Bob joined the faculty in 1965 as director of the first- and second-year program and later helped establish the communication design major. In 1972, he launched Create Studio, a professional graphic design firm staffed entirely by students—one of the first of its kind in the nation. Bob's own studio practice embodied his wide-ranging interests and endless curiosity, and included commissioned projects for Cincinnati's Taft Museum, the St. Louis Zoo, and the MUNY Opera in Forest Park, among many others.
Donated by Kathy Vice, daughter of Robert C. Smith
Value: $75    Shipping: donated by donor
Terms: art
Enter your email below to get notifications of new bids placed on the above item.
Shipping Details
Shipping: n/a
From: n/a
To: n/a
Payment Details
Winner will receive PayPal payment link via email.