A custom-made paper cut illustration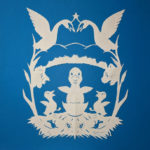 Randel McGee will create a paper cut illustration of a story of your choice! The higher the winning bid, the more elaborate the cutting. Illustration will be approximately 7" x 10", mounted on blue archival paper and sent to you for framing. This photograph is an example of his exquisite work.
Donated by Randel McGee   http://mcgeeproductions.com/paper-crafts-arts/
Value: equal to the winner's bid   .   Shipping: donated by donor
Terms: art
Charlotte house bid $75.00 on July 16, 2020 5:19 pm
Enter your email below to get notifications of new bids placed on the above item.
Shipping Details
Shipping: n/a
From: n/a
To: n/a
Payment Details
Winner will receive PayPal payment link via email.