Hotel Information
Stay with us right where all the workshops will take place for ultimate convenience & networking!
Fremont Marriott Silicon Valley
46100 Landing Parkway, Fremont, CA 94538
Reservations can be made by phone at 1-800-228-9290 or (510) 413-3700. Tell the hotel staff you're with the National Storytelling Network and plan to attend the 2019 National Storytelling Summit.
NEW OPTION!
Make your reservations online!
The NSN room block is available from July 24 to July 29.
Room rates are $129.00 plus taxes for a standard room. The deadline for making your hotel reservations is July 1, 2019.
Parking
The Fremont Marriott Silicon Valley has parking available for free.
Transportation Logistics
The Summit hotel (Marriott Silicon Valley in Fremont, California) is:
10 miles from the San Jose airport (SJC) – the distance is shorter so travel time will be faster
24 miles from the Oakland airport (OAK) – this airport is connected to BART so the travel will be cheaper
The hotel does not have an airport shuttle, so you have to navigate your own way to the Summit site.
Both the San Jose and Oakland airports have taxis, Uber, Lyft, and airport shuttles for hire. These will likely run $40 to $60.
Oakland has a direct connection to BART, the train, which travels to Fremont ($7). Estimated travel time on the train (not including waiting) from the Oakland Airport to Warm Springs/South Fremont station is approximately one hour. Attendees who utilize this transportation will need to exit at the Warm Springs/South Fremont station (two miles from the summit hotel, so a cab or Lyft for the last leg is required – or call someone you know with a car).
Our local storytellers do not recommend flying into San Francisco (SFO) – 33 miles from the hotel – unless you are planning to rent a car and/or extend your stay in the Bay Area and plan to be in San Francisco. Any savings you get flying into SFO will be lost on transport to the hotel: shuttles, cabs, or Lyft/Ubers will be double the cost of transport from San Jose or Oakland ($80 to $120+++).
The BART train does run to and from the San Francisco Airport. Estimated travel time on the train (not including waiting) SFO to Warm Springs/South Fremont station is 1 hour 45 minutes.
Enterprise Rent-A-Car and National Car Rental
Emerald Club Preferred Car Rental Program
Enjoy access to discounted car rentals worldwide with Enterprise Rent-A-Car and National Car Rental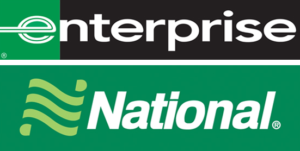 NSN is excited to announce a new partnership with Enterprise and National car rentals!
National is the provider of choice for airport rentals and Enterprise is the provider of choice for off-site rentals.
National: Airport rentals
Enjoy the Emerald Club status.
Lower your wait time with counter bypass privileges.
Choose your own car.
Enterprise: Local and home city rentals
Over 7,000 locations throughout North America.
Pick-up and delivery options available.
Long term rental needs are available – Reduce costs by eliminating airport surcharges and fees.
Receive a complimentary Emerald Club status!
Emerald Club Benefits:
Choice of a car from the Emerald Aisle, featuring mid-size and higher class cars all charged at the midsize rate.*
One Free Rental Day (up to a full-size car) with seven rental credits.

At Executive status, only six credits needed
At Executive Elite status, only five credits needed

Drop & Go – With convenient email receipts, just drop off your car and go.
The Emerald Aisle allows you to bypass the counter and choose any car at the reserved midsize car price. With National's dedication to bringing you the industry's newest fleet, the Emerald Aisle has the most up-to-date cars to choose from.
Plus, earn with Enterprise! Rent at participating Enterprise locations to earn towards free rental days and higher status with Emerald Club.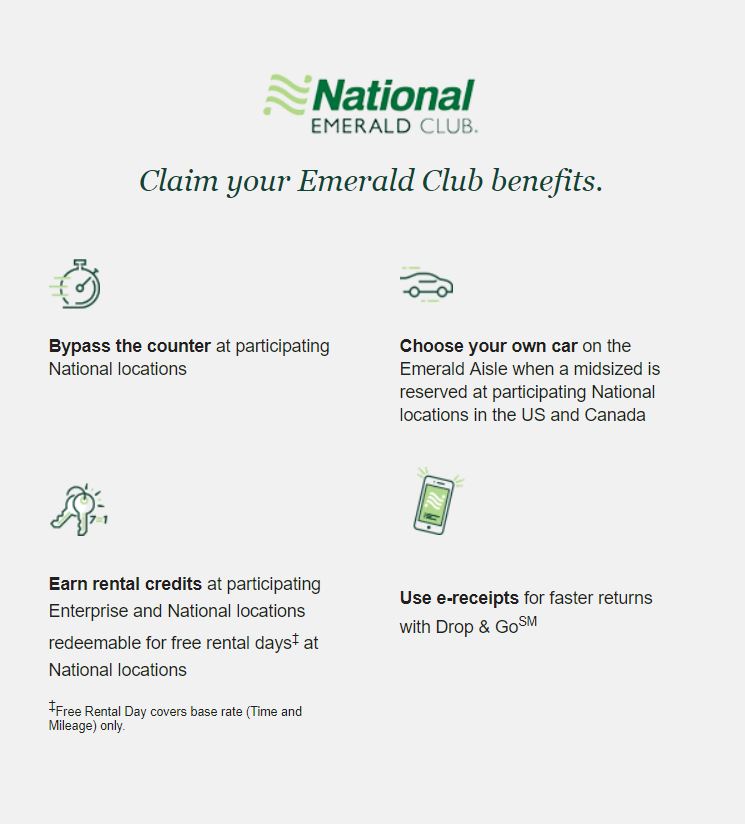 How to Enroll
Visit the Emerald Club Enrollment page
Click "View Website" under National | Enterprise
Click "Enroll Now" on the Emerald Club site
Once you complete your information you will receive a confirmation email with your Member Number
Login to the National Website, using your Emerald Club credentials, and rent a car in 1,500+ locations worldwide