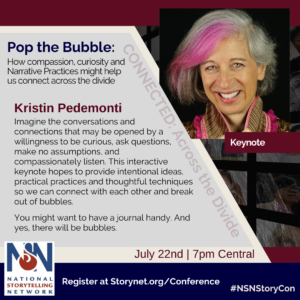 Pop the Bubble: How compassion, curiosity and Narrative Practices might help us connect across the divide.
Imagine the conversations and connections that may be opened by a willingness to be curious, ask questions, make no assumptions, and compassionately listen. This interactive keynote hopes to provide intentional ideas, practical practices and thoughtful techniques so we can connect with each other and break out of bubbles.
You might want to have a journal handy. And yes, there will be bubbles.
Kristin Pedemonti specializes in unpacking and exploring complex layered topics so we can more easily understand, communicate, and connect with each other.
Kristin is a National Storytelling Network StoryBridge Award recipient for her work across cultures. She's performed on 5 continents in 20 countries, her favorite so far, Iran.
Kristin is a published author:  A Bridge of Stories,  a Storytelling Consultant at the World Bank, a facilitator of anti-racism conversations, and Founder/Practitioner of Steer Your (inner) Story; a recovery from trauma program based on Narrative Therapy practices bolstered by the Master's Program at University of Melbourne.