Greetings from the Healing Story Alliance
HSA explores and promotes the use of storytelling in healing. Our goal as a special interest group of the National Storytelling Network (NSN) is to build a resource for the use of story in the healing arts and professions. We share experiences and skills to increase our own knowledge of stories and how best to use them to inform, nurture, inspire and heal, both organizations and individuals. We strive to reach beyond our storytelling community to engage all those in other service professions who can see the benefit of story as a vehicle for healing.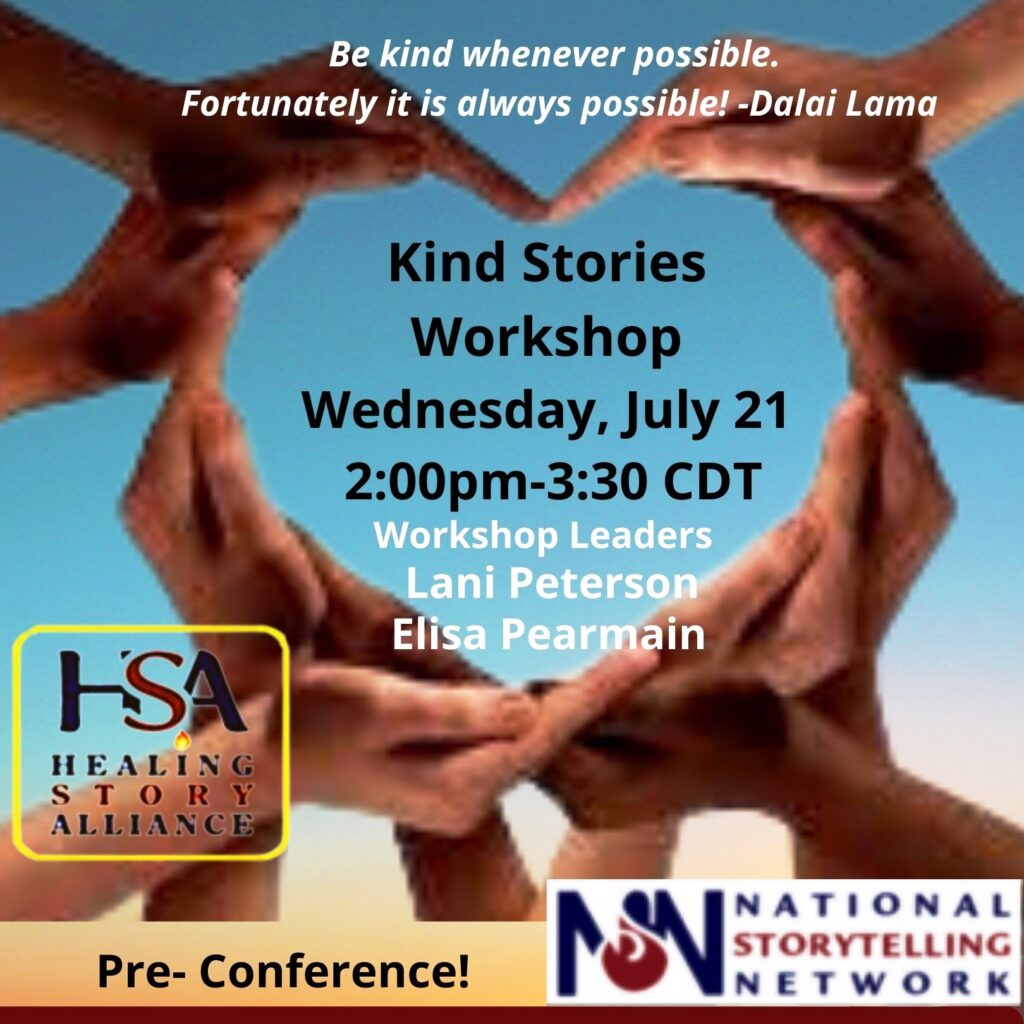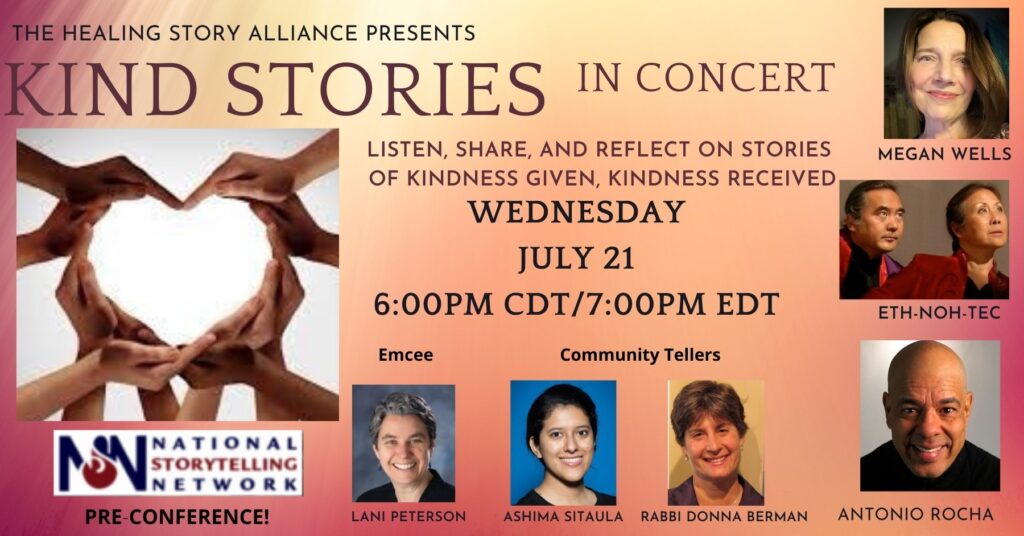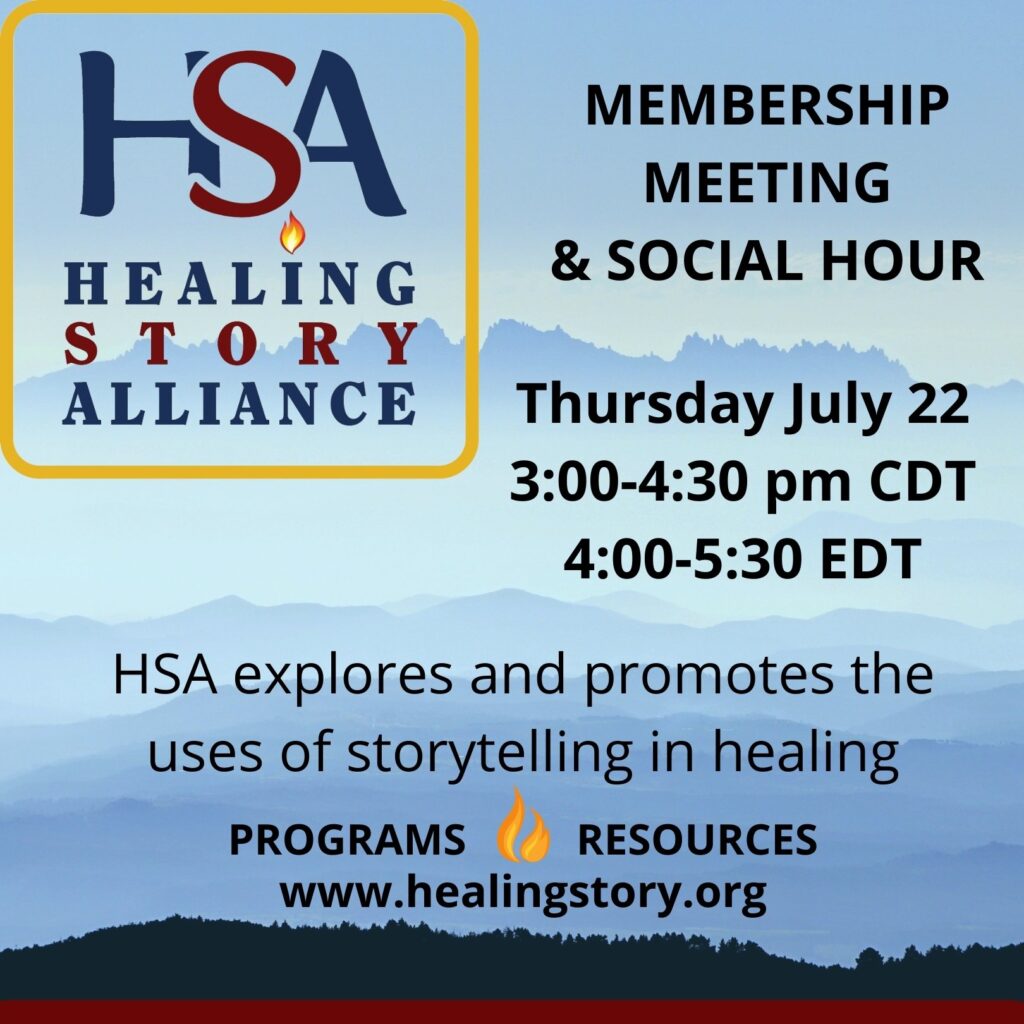 Kind Stories Workshop
With Lani Peterson & Elisa Pearmain
Stories of kindness in its many guises have inspired us through the last year. Now we are offering an opportunity to work with several prompts to explore your personal and family stories of kindness at more depth. You will come away with a few story seeds and a more developed story shared in small groups.
Kind Stories in Concert
Featuring Megan Wells, Eth-Noh-Tec and Antonio Rocha
Kindness comes in myriad forms. Three Oracle award winning storytellers and two community tellers share true-life and folkloric stories of kindness given or received.
This website offers resources, guidance and practical applications for storytelling, revealing and reflecting the many facets of healing story in the world today and in the past. In addition to bibliographies, and links, there is a library of articles on Healing Stories and Storytelling. Our acclaimed Journal, Diving in the Moon: Honoring Story, Facilitating Healing, is back in 2013 as an e-journal on the HSA website, and will now include articles and written or spoken stories, poetry, and photography.
Many are drawn to our site in search of answers or resources for dealing with the pain and tragedy of events such as the shootings of children in Connecticut, the uprooting of families and communities through natural disasters and human-initiated aggression (from bullying to war). This interest is addressed in our compilations of stories:
We invite submissions to these pages. This site is also a resource for ongoing events the HSA Special Interest Group sponsors. In addition to pre-conference workshops, concerts, swaps and our yearly meeting at the NSN Annual Conference, HSA hosts monthly Tele-conferences with international storytellers and experts. Presently, collected presentations from several years of these hour-long presentations are available for listening.
For Information on how you can join, volunteer and/or donate to the Healing Story Alliance, please contact Lani Peterson (lani@lanipeterson.com) and Heather Forest (heather@storyarts.org).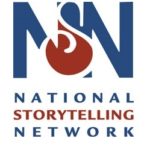 The Healing Story Alliance is a Special Interest Group of the National Storytelling Network.