Event for Ages 16+
Can stories make a difference in how we see the world and each other? Come hear a sample of social justice stories by eight diverse tellers whose repertoires include stories that artfully raise awareness and motivate action about pressing social issues.
If You Would Like To View This Video You May Purchase Access In The Digital Library. If You Have Already Purchased Access And Are Having Difficulties Viewing The Content, Please Contact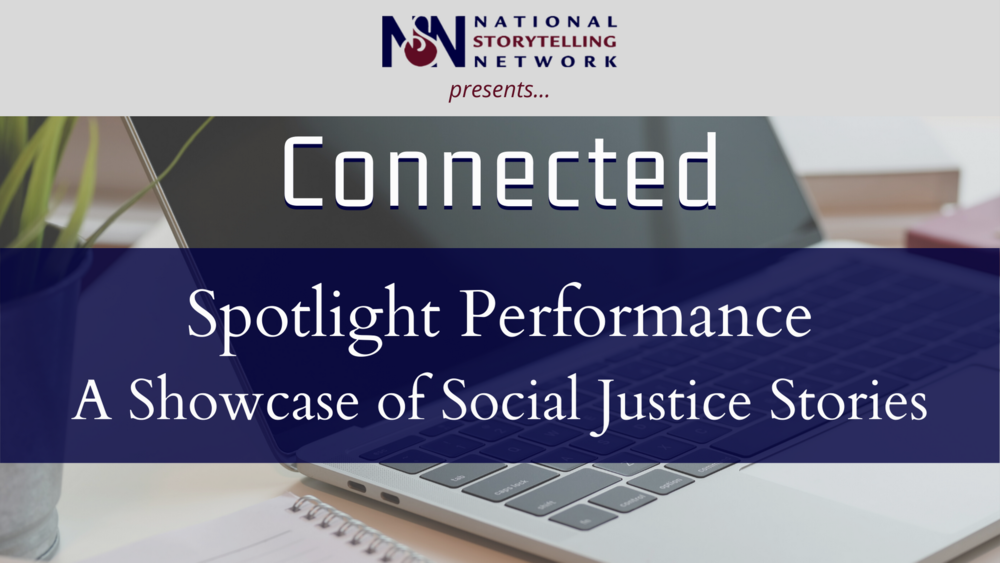 Author, Sue O'Halloran, has appeared on PBS and ABC Nightline. She is producer/director of www.RacebridgesStudio.com. The site houses over 250 video stories dealing with race and transformation. Sue began her collaboration with the Society of the Divine Word (SVD) in 1995 producing videos and discussion/resource guides to help make "liberty and justice for all" (finally) a reality.
www.SusanOHalloran.com
A Black American Son's Survival Lessons told by Sheila Arnold
A frantic call from Sheila Arnold's son during his freshmen year in college turns into a moment to remember all that she had to teach him about growing up black, and what he had learned about crossing bridges in spite of people's perceptions.
Sheila Arnold has been gifted by God with performance skills; using this talent since she was eight years old. Since 2003 she has been a full-time Storyteller traveling through the United States and sharing a variety of stories, as well as doing Historic Character Presentations, Christian Monologues, Coaching and Workshops.
www.mssheila.org
Because I'm Jewish Doesn't Mean I Have Horns told by Laura Packer
At 14, storyteller Laura visited friends living in the rural south and encountered negative assumptions about Judaism for the first time.
Laura Packer knows the best way to truth is a good story; she has told, taught, coached, consulted and considered storytelling globally. She is committed to great storytelling, helping others tell their stories and change the world. Laura has won multiple awards including the Oracle Award. She is the author of From Audience to Zeal: The ABCs of Finding, Crafting, and Telling a Great Story.
http://laurapacker.com
The Importance of Representation on Our Stages told by Rives Collins
Rives Collins recalls his work directing plays for children and how, through them, he learns the importance of representation on our stages and the significance of role models for our children.
Rives Collins is an acclaimed professional storyteller (ORACLE AWARD, National Storytelling Network), and works with full faith that planting stories in the world is a bit like the work of Johnny Appleseed. He is the chair of the theatre department at Northwestern University (JOHNNY SALDAÑA OUTSTANDING PROFESSOR OF THEATRE EDUCATION).
https://www.communication.northwestern.edu/faculty/RivesCollins
I Am Tall for a Chinese Person told by Archy Jamjun
A server navigates the sometimes subtle and sometimes blunt racial comments he receives while working at a restaurant.
Archy Jamjun is the curator of Outspoken LGBTQ stories at Sidetrack and a co-producer at Story Jam. He is a two-time winner of The Moth Grand Slam and has been published by The Rhumpus and Barrel House.
facebook.com/archarchj
To Live or Not Live in La Villita, Chicago told by Jasmin Cardenas
Jasmin struggles with where to live: a culturally vibrant, but unsafe Mexican American community -or- a picturesque middle-class neighborhood where her son might be the only brown boy on the block.
Jasmin Cardenas is a bilingual storyteller, arts educator, arts activist and life-long Chicagoan. Proud daughter of Colombian immigrants, Jasmin shares stories to build bridges. She is over-joyed to debut as a New Voice at this years' 2020 National Storytelling Festival. Keep up with her at www.JasminCardenas.com or https://www.facebook.com/JasminCardenasCreates/
Just Not Muslim Enough told by Arif Choudhury
Sometimes we forget about the diversity that exists within a faith and within a family. In this story, Arif is reminded of how he is different from some of the relatives in his Muslim family.
Arif Choudhury is a storyteller, filmmaker, and stand-up comic who shares a tapestry of stories about growing up in one of the Chicago area's few Bangladeshi-Muslim families. Focusing on issues of ethnic and religious identity, immigration, assimilation and diversity, Choudhury explores the humor in how we think about and relate to one another.
You Never Know What the End Will Be told by Diane Ferlatte
In 1972 Diane marries "outside her race" and her mother-in-law refuses to attend the wedding, among other things. What happens to the family's relationship afterward is anyone's guess. A story of hope and a reminder that love conquers many things.
Grammy nominated international storyteller Diane Ferlatte, is a multi-award winning performer, who for over thirty years has wowed audiences across six continents in over twenty countries. While emphasizing the history, struggles, and triumphs of the African American experience she also loves to tell stories that hold truths touching upon our common humanity. dianeferlatte.com
Presenters:
Sue O'Halloran
Sheila Arnold
Laura Packer
Rives Collins
Archy Jamjun
Jasmin Cardenas
Arif Choudhury
Diane Ferlatte