November 18, 2023
Welcome to TELLABRATION!™, a night of storytelling celebrated worldwide on or about the third Saturday in November.
Guilds and storytelling enthusiasts all around the globe will share their storytelling talents in concerts held in cities and towns to celebrate the art of storytelling. Locally, TELLABRATION!™ brings together each area's most celebrated storytellers, to delight, captivate, and mesmerize audiences with their stories. It creates a network of storytelling enthusiasts bonded together in spirit. This year many of the events will be online – expanding the possibilities for both performers and audiences.
Anyone can independently produce a TELLABRATION!™, a National Storytelling Network trademarked event: storytelling organizations and centers, schools, libraries, colleges, museums, performing arts centers, story-swap groups, story enthusiasts, and others. Originally envisioned as an evening of storytelling for adults, our members have expanded the scope of the celebration over the years and across the world.
It's not only a great way to celebrate storytelling, but an important opportunity to reach out to all those story enthusiasts who are not yet NSN members.
Please see the TELLABRATION!™ Producer Information link for a few simple things that NSN requests be included when you celebrate this wonderful, worldwide storytelling gathering with us.
Use the links at the right to learn more about producing your own TELLABRATION!™ event!
To find a TELLABRATION!™ near you, check the list below or go to the NSN event calendar and browse the month of November for your region or state.
A Welcome to all from TELLABRATION!™ founder J. G. Pinkerton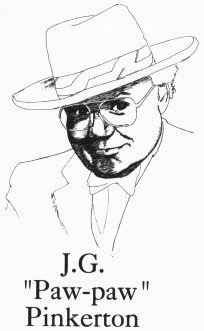 In 1988, I dreamed of having a night each year when storytellers in each community got together and told stories to their families and friends.
I called the idea TELLABRATION!™
Friends of storytelling liked the idea and began making it happen. Each year the circle of friends has grown and now TELLABRATION!™ happens all across America as well as in other lands.
I am only the man who had the idea… it is the friends of storytelling who have made the event a success.
Hundreds of tellers telling to thousands of people.
May what the tellers share bring joy to many people and may the listeners come to know that…through storytelling, we can draw closer together in peace… and in friendship… and in love.
Storytelling reaches around the world and across all generations… reminding us of our common humanity. I know storytelling creates experiences… and … shared experiences are the basis of all relationships. My best wishes go with all who join in this common endeavor.