Event for Ages 10+
Experience the diverse faces and stories of the Asian American diaspora. Our stories will transport you across the continent of Asia and bring you back to America for an intimate view of the Asian experience through folk, personal, and historical tales. Presented by Asian Storytellers in Unity and hosted by Joel Ying.
If You Would Like To View This Video You May Purchase Access In The Digital Library. If You Have Already Purchased Access And Are Having Difficulties Viewing The Content, Please Contact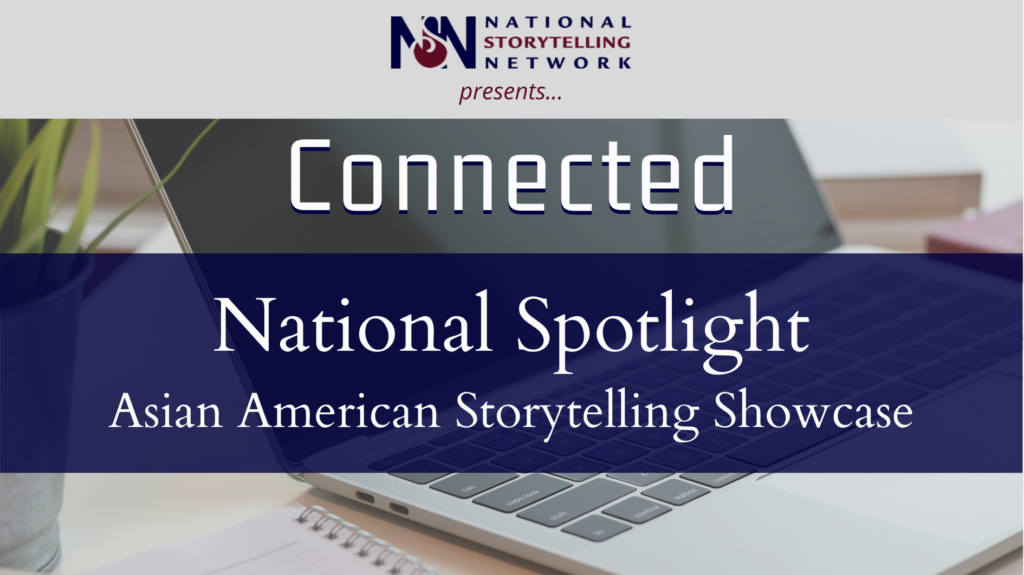 Stories
More Than a Box told by Joel Ying
When you grow up between two worlds, which one do you belong to? A personal story of cultural identity and fitting in.
Physician-Educator-Storyteller, Dr. Joel Ying shares his passion for storytelling as a performance art, community art, and healing art. He practices holistic medicine in Naples, Florida, and teaches "Storytelling as Healing." From folk tales to personal stories, his storytelling bridges traditional and modern. President of the Florida Storytelling Association, he performs and hosts story circles. JoelYing.com
Strong Boy told by Karin Amano
Strong Boy – A superhero boy of mysterious origins has amazing adventures on his way to do battle against an ogre.
A native of Japan, Karin trained in Japanese traditional theatre before studying educational theatre at NYU. In New York she performed in numerous plays, a dance troupe, and taught acting/dance summer camps. A full-time storyteller and actor at Walt Disney World for 11 years, she now performs annually at
Epcot's Japan Pavilion. Last year she performed at the National Storytelling Festival. www.JapaneseStoryteller.com
The Maestro told by Eleanor Clement Glass
When asked if anyone can control or orchestrate what happens to their family after they die, my mother answered with an emphatic YES! and she did it!
Eleanor Clement Glass delights children with folktales from around the world as a volunteer storyteller at the Asian Art Museum and teaching artist in the Oakland Public Schools. Filipina and African- American, she also shares personal family stories. In 2019 she joined Ethnohtec's international Storytelling Tour, exchanging good will and stories with local storytellers in China and South Korea.
Krishna and the Serpent told by Roopa Mohan
From the Hindu God Krishna's childhood, there is danger lurking in the depths of the Yamuna River. Can the young cowherd Krishna solve the problem?
Roopa Mohan trained as a volunteer storyteller for school groups at the Asian Art Museum in San Francisco where she tells stories of objects in the museum's collection. Expanding her repertoire, she now shares personal stories along with myths and legends from growing up in South India. She enjoys enhancing her stories, especially from Hindu myths, with dance mudras (gestures) and regional songs.
The Bugler and the Pilot told by Alton Takiyama-Chung
Richard Fiske was at Pearl Harbor on December 7, 1941. This is his journey to forgiveness and healing, and his solemn promise to a former enemy.
Japanese-Korean storyteller Alton Takiyama-Chung, grew up with the superstitions and the magic of the Hawaiian Islands. He tells stories of Hawaii, of WWII Japanese-Americans, and Asian folktales and has performed at the Timpanogas, the National Storytelling Festivals, and at international storytelling festivals. He also is a former Chairman of the Board of Directors for NSN. Website: www.altonchung.com | Facebook: Alton Chung | Instagram: takiyama_chung
Presenters:
Joel Ying
Karin Amano
Eleanor Clement Glass
Roopa Mohan
Alton Takiyama-Chung