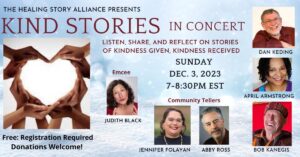 Register here to Receive a FREE Kind Stories in Concert Zoom Link
https://www.simpletix.com/e/kind-stories-in-concert-december-3-2023-tickets-149599
Click here to Donate and help make programs like this possible
https://square.link/u/d9xbGN2I
'Kindness is having the ability to speak with love, listen with patience, and act with compassion."
–Random Acts of Kindness Foundation
Join the Healing Story Alliance for a special gathering to share and explore stories of kindness in its many faces and forms. Through folk tales and personal stories, we will dive deeply into multiple experiences of kindness. What is it? How does it impact us and our relationships to ourselves, to each other, to the world? Come and listen to "kind stories" shared by both professional tellers and community members and see what memories of kindness emerge for you.
Date: Dec 3, 2023
Time: 7:00pm-8:30pm EST
(Open Mic Story Share and Reflection: last half hour)
Format: The story session opens with a concert of seasoned tellers and community tellers sharing stories with themes of kindness. During the second half of the gathering, audience members are invited to share a story, moment, or reflection about kindness that emerged for them as listeners.
Purpose: We all need a little more kindness in our lives. Perhaps a story can take us there.
"WHEN YOU ARE KIND TO OTHERS, IT NOT ONLY CHANGES YOU, IT CHANGES THE WORLD."                                                                                       Harold Kushner

ABOUT the STORYTELLERS
Dan Keding is an internationally acclaimed storyteller, musician, and author who tells world folktales, personal narratives of his Chicago boyhood, ghost stories and superbly crafted original pieces.  As a child he learned stories of the old country from his Croatian grandmother.  A well-respected ballad singer, Dan accompanies himself on guitar, banjo and spoons. He has performed across the world, including festivals in the UK and Canada.  A recording artist and author, Keding's numerous awards include two Anne Izard Storytelling Choice awards.
"For Dan Keding, simplicity and high art go hand-in-hand."– Illinois Times
April Armstrong weaves melodies and words for a refreshing and compelling style of storytelling. Her story programs are fun and interactive. She tells stories for schools, colleges, libraries, museums and festivals. She tells multi-cultural folktales, including African-American and Latino stories. April's stories delight, inform and inspire audiences of all ages. Her storytelling has taken her throughout NYC tri-state area; to Florida, Georgia, and California. She has told stories at the Negril Elementary School in Jamaica and in Bali, Indonesia at the Pelangi International School. April is the recipient of the National Storytellers Networks 2020 J.J. Reneaux Emerging Artist Award for Storytelling as well as the 2015 Bronx BRIO Award for Storytelling. Her cd has won a Parents Choice Award.
Bob Kanegis explores the intersection of myth and traditional folktales with contemporary issues of family, culture, and politics. He shares the view of the Siberian elder who said, "If you don't know the trees you may become lost in the forest, but if you don't know the stories, you may become lost in life." Seen this way, storytelling is a 21st century survival skill. Bob performs, and serves as a story coach nationwide, helping people find, craft and tell their most important stories. You can find Bob's blog at www.storytellerscampfire.com
Emcee
Judith Black, one of America's foremost storytellers, has been retelling history from new perspectives, tickling familial dysfunction, offering ironic explorations of aging, and most recently turning her skills towards our disrupted climate. As a Wheelock College graduate and former teacher she is able to draw storytelling through the educational landscape, showing its profound uses in cognitive, emotional, and social learning. Her work for adults has been featured twelve times at the National Storytelling Festival and on stages from the Montreal Comedy Festival to the Art Museum of Cape Town, SA. She is the winner of the Oracle Award, storytelling's most coveted laurel, the Brother Blue and Ruth Hill Award and many others. Her work in theaters across the nation has received rave reviews.
COMMUNITY TELLERS
Abby Ross (they/them) is a performer, writer, practicing Buddhist and sometime teller of stories in Portland, OR.  They had a long left-brain career in foreign policy and national security in New York and Washington, DC, which they largely left behind starting in 2015.  Instead, they dipped deeply into performance, training and appearing in more than 30 live stage shows in Washington, DC and Maine from 2008-2020, including Lear in King Lear and Hamm in Beckett's Endgame.  COVID closed stages down; writing and Zoom took its place for them. They write a column for Substack called "Sheathed Sword" https://sheathedsword.substack.com/?utm_source=%2Fsearch%2FSheathed%2520Sword&utm_medium=reader2), which crisscrosses many bridges, from politics and the dreadful international situation, to gender, love, and the impermanence of it all.
Jennifer Folayan is of Pueblo, Cherokee, Aztec and Spanish descent. She served on the Board of Directors for the Baltimore American Indian Center. She believes each person has the potential to create a life that is filled with happiness and love. She serves her community through organizing events, graphic design and marketing services, and volunteer work.