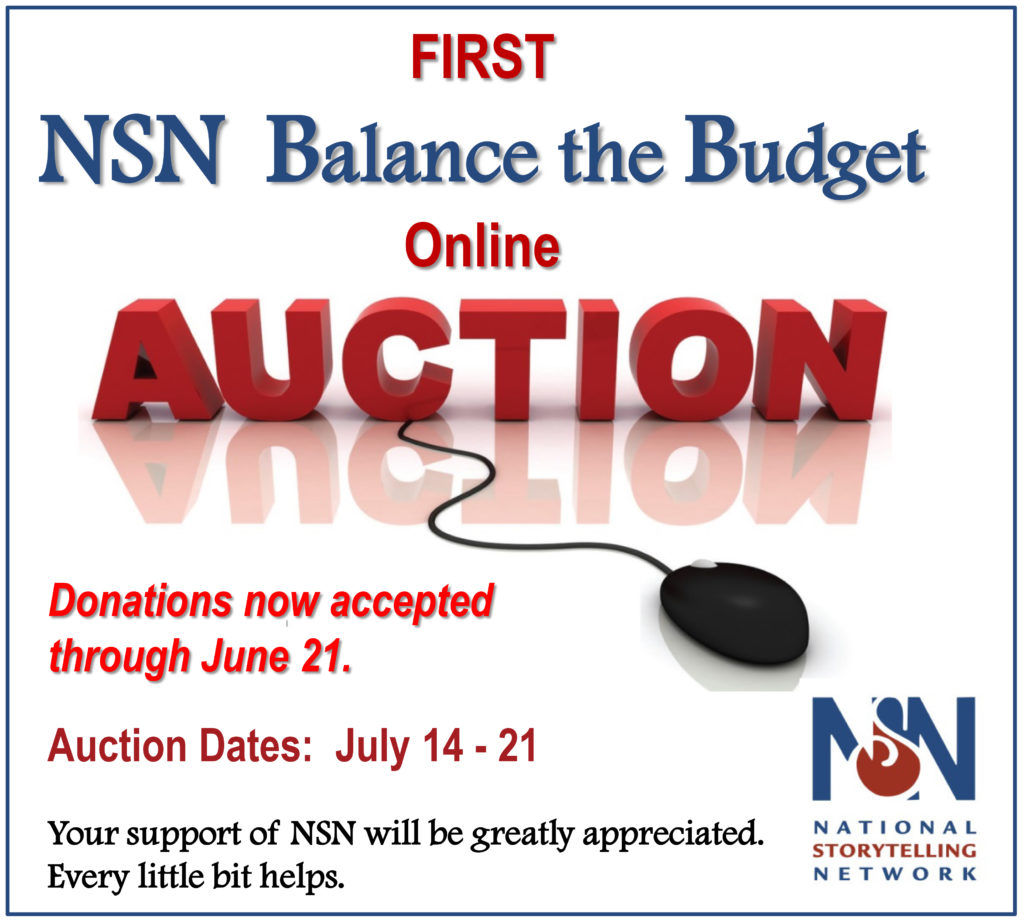 Here are types of items which have sold well in the past:
Storytelling services (marketing, recording, coaching, photography, house concerts, etc.)
Autographed storytelling books, CDs, DVDs
Storytelling retreats
Storytelling conference and storytelling festival registrations
Puppets and other story enhancers
Musical instruments
Quilts, wall hangings,  paintings
Hand-crafted jewelry
Wearable art
Gift baskets
Gift certificates
Minimum value for a donated item: $35
Items must be new or nearly-new in excellent condition
PLEASE NOTE: at last year's auction (which supported the Member Grants Program), over two-thirds of the items sold for $35 – $60. So if you have four CDs you want to donate, please submit two auction items, each containing two CDs. Also, gift certificates of all sorts sold particularly well.
If you have an item or service you would like to donate, please email kate@katedudding.com no later than June 14th with all of the following information:
One or more photos (if it's a service you will provide, perhaps your photo would be appropriate)
Description
Approximate value
Starting price ($35.00 minimum for each item)
Shipping price (will you donate the shipping or should this value be added to the bid to pay for the shipping?)
Travel details (if any)
Donor's name
Donor's email address
Important: Do not mail any items to the NSN office. At the end of the auction, there will be direct mailing from the donor to the auction winner.
Imagine sitting in your favorite spot and bidding on beautiful hand-crafted items and inspiring storytelling experiences, donated from your storytelling friends across the nation and beyond to help support NSN. For 8 days in mid-July, you'll be able to get a jump on your holiday shopping wherever you are as long as you can access the NSN website. Watch for specifics about the auction itself to be posted at https://storynet.org/nsn-online-auction/ and in Story Forge, the NSN monthly newsletter.
To generate donations and also when the auction runs in July, please spread the word on Facebook, Twitter, LinkedIn, Pinterest, and other social networks. Let your non-storytelling friends, family, and co-workers in on the auction, especially if you spot an item they might be interested in.
We look forward to a fun online event but first, we need your donations to make it happen!
Extended Donation Deadline: June 21st. 
The auction will be open for bidding from Tuesday, July 14, 4 p.m. EDT until Tuesday, July 21, 4 p.m. EDT .
THANKING YOU IN ADVANCE FOR YOUR SUPPORT,
Kate Dudding, Auction Chair       Marilyn McPhie, Auction Co-Chair