January 23, 2021
Detroit Association of Black Storytellers Monthly Meeting
Detroit Association of Black Storytellers Monthly Meeting
January 25, Detroit 10:00 a.m.-12:00 p.m.
Detroit Association of Black Storytellers invites you to attend their monthly meeting at the Charles Wright Museum of African American History, 315 E Warren Ave. Join us for a story, workshop, refreshments and business meeting. www.detroitassociationofblackstorytellers.com or call: Jatu Gray, 313-433-4249.  New members welcome
Auburn Winter Storytelling Festival
Auburn Winter Storytelling Festival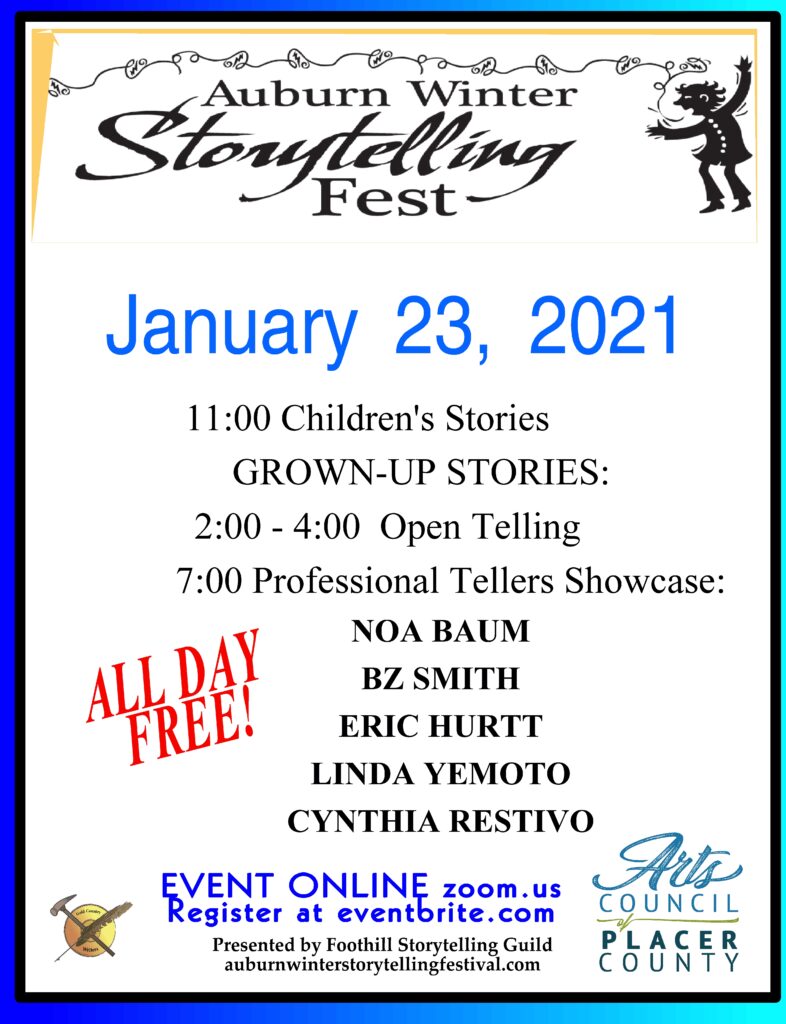 January 23, 2021 One day – all day -- Times listed below are set at CST. However, the entire event is based on Eastern Standard Time -- so please adjust accordingly to your own time zones.
Children's stories start at 11am; Open Telling is 2 to 4pm; featured PROFESSIONAL tellers at 7pm Pacific TIMES LISTED BELOW ARE BASED ON THE CENTRAL TIME ZONE -- HOWEVER, THE ENTIRE EVENT WILL TAKE PLACE IN THE EASTERN TIME ZONE -- PLEASE ADJUST THE START TIMES TO YOUR OWN TIME ZONES.
FREE but must register at eventbrite.com search Auburn
Link to zoom.us meeting will be sent the day before the event
The Auburn Winter Storytelling Festival has been bringing the art of telling in the oral tradition to the Northern California community for five years. On January 23, 2021, the event will be presented as an online event on zoom.us. Registration is on eventbrite.com with the zoom link being sent the day before the program. The same link can be used throughout the day for any of the programs. There will be three times during the day for different events. At 11 am Ed Lewis and Linda Kennedy will entertain children with stories and songs. At 2 pm is Open Telling where those who signed up when they registered can tell a five-minute story. Maybe a personal story, a folktale, or the audience favorite, a tall tale. In the evening five PROFESSIONAL tellers will have 20 minutes to tell tales:
Noa Baum - Multi-cultural traditional folktales including Jewish heritage
Eric Hurtt - Sacramento and Gold Country stories of the California Gold Rush
Cynthia Restivo - Storyteller who spent many years with the International Theatre
BZ Smith - Award winning teller of true-life tales & stories from her indigenous roots
Linda Yemoto - Asian folktales and favorite nature stories for the whole family
The Auburn Winter Storytelling Festival is free to the public because of the generosity of our sponsors, the Arts Council of Placer County, Poets & Writers, Gold Country Writers, and the Sacramento Storytelling Guild. For more info: auburnstorytellingfestival.com and Facebook.
Showstopper: Better Said Than Done Storytelling Show
Showstopper: Better Said Than Done Storytelling Show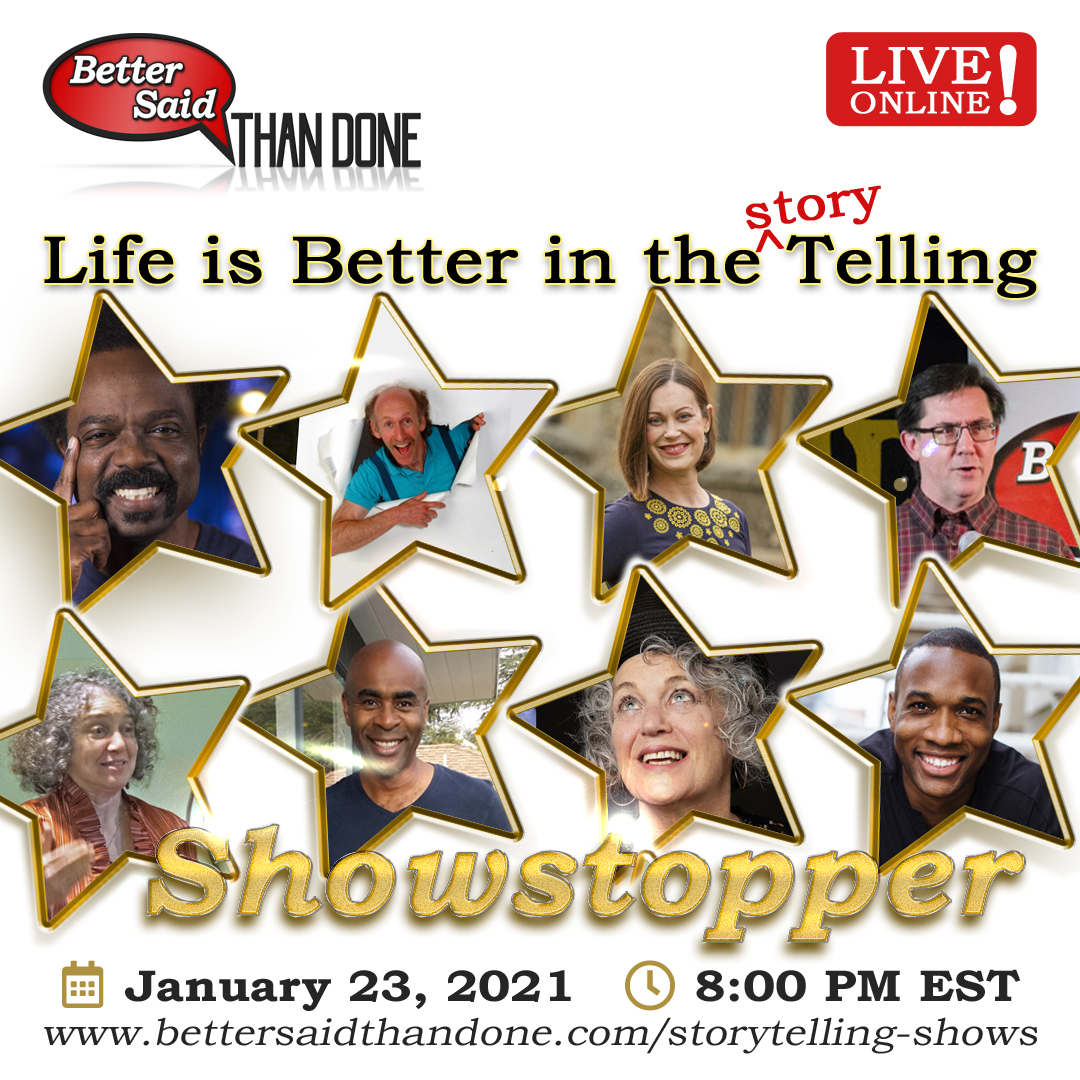 On January 23, 2021, join Better Said Than Done for our LIVE ONLINE Storytelling Show - Showstopper: stories of shows, performers, and moments of WOW
With host Nick Baskerville, and storytellers Robin Bady, Sarah Brady, Fanny Crawford, Jackson Gillman, Don Reed, Devan Sandiford, and Jack Scheer.
Storytellers will perform from the comfort and safety of their own homes. And, since we won't see you, come as you are. The audience can comment, wave, clap, and be appropriately inappropriate in the comments section of our live on Zoom show.
Window into Nick's living space opens at 7:57pm.
Show starts at 8pm EST.
Suggested contribution $15 per attendee. Minimum $5. Proceeds will be divided among the storytellers.
Tickets on sale at:
https://www.bettersaidthandone.com/2020/12/28/storytelling-showstopper/
Ticket sales close at 7:45PM on show day, or whenever we sell out!
Register early.
You should receive the Zoom login shortly after registering. Check the email you use on Paypal and check your junk folder if you do NOT see it. Try to login a few minutes before show time to make sure you can gain entry.
Contact us at stories (at) bettersaidthandone (dot) com if you still do not see the email.
All ticket holders will receive a link to the recorded show approximately 48 hours after, in case you miss any part of it or just want to watch it again!
PLEASE NOTE: Once the show starts, we cannot respond to emails. PLEASE double check you have the login prior to 8pm EST on January 23!