October 24, 2020
Detroit Association of Black Storytellers Monthly Meeting
Detroit Association of Black Storytellers Monthly Meeting
January 25, Detroit 10:00 a.m.-12:00 p.m.
Detroit Association of Black Storytellers invites you to attend their monthly meeting at the Charles Wright Museum of African American History, 315 E Warren Ave. Join us for a story, workshop, refreshments and business meeting. www.detroitassociationofblackstorytellers.com or call: Jatu Gray, 313-433-4249.  New members welcome
Living Room (Dead or) LIVE!
Living Room (Dead or) LIVE!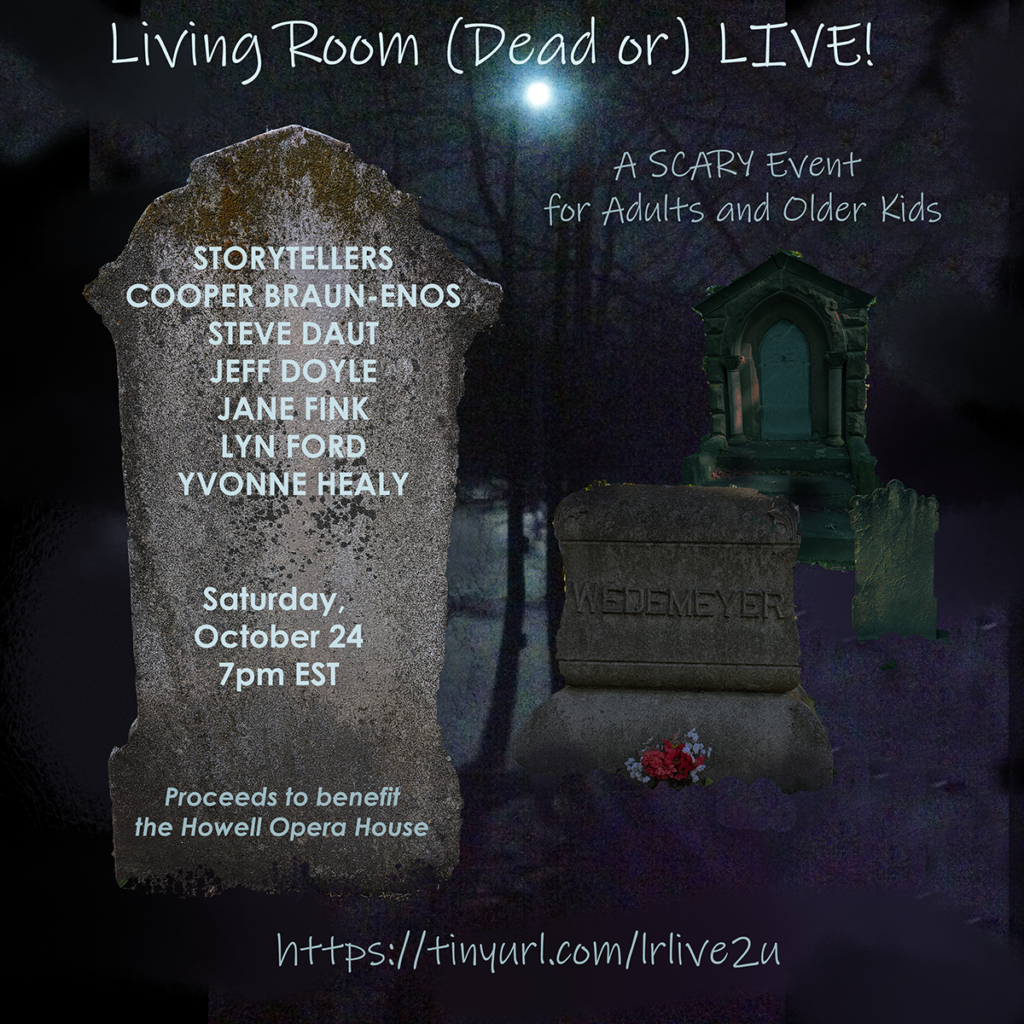 This SPECIAL EDITION of Living Room LIVE features scary stories for adults and older children by Cooper Braun-Enos, Steve Daut, Jeff Doyle, Jane Fink, Lyn Ford, and Yvonne Healy. Begins 7pm EST
Living Room LIVE!
Living Room LIVE!
This ZOOM series features professional storytellers in an hour-long format. generally on the second Saturday of each month. Tellers in this series include Antonio Rocha, Lynn Ford, Jeff Doyle, Jennifer Munro,  Noa Baum, Steve Daut, Anne Rutherford and Norm Brecke.
The pay-what-you-can links for every concert in the series is https://tinyurl.com/lrlive2u
After this link is accessed and processed, a registration link will be emailed to you for the specific concert.
Dark & Stormy 2020 - Halloween Tales to Thrill & Chill
Dark & Stormy 2020 - Halloween Tales to Thrill & Chill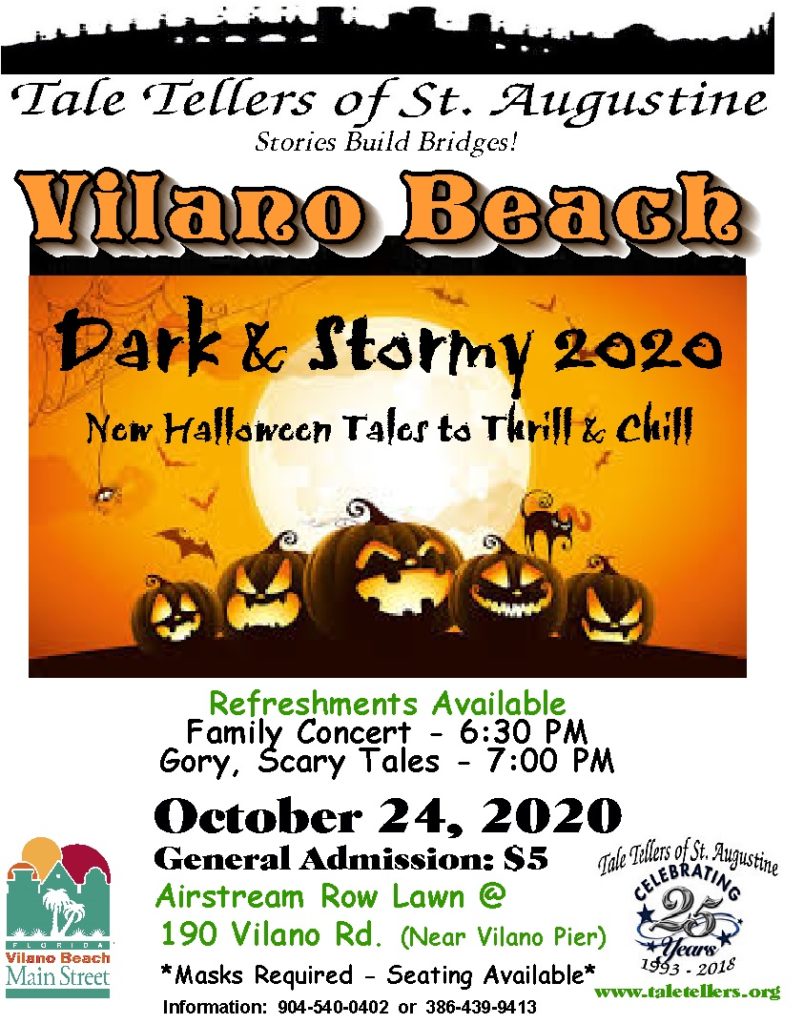 Tale Tellers of St. Augustine brew a cauldron of unnerving, haunting tales.
Family Concert: 6:30 PM; Gory, Scary tales for 12&Up: 7:00 PM. Parental discretion recommended for second set.
General Admission: $5.
OUTDOOR VENUE. Protective masks required. Refreshments. Free parking. Costumes encouraged.
Information: 904-540-0402, 386-439-9413, http://www.taletellers.org. Or info@taletellers.org.
Location: Airstream Row Lawn (Near the pier), 190 Vilano Road, Vilano Beach, St. Augustine, FL.
The American Dream
The American Dream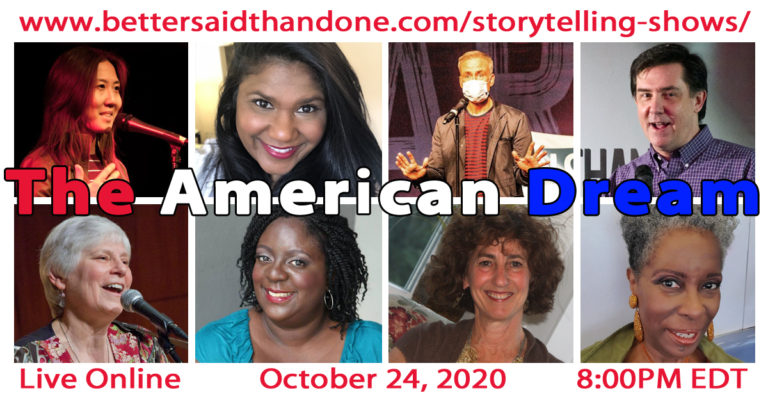 Join Better Said Than Done for "The American Dream!" - A LIVE ONLINE Storytelling Show
With host Jack Scheer, and storytellers Heather Forest, Linda Grosser, Rhonda Hansome, Jennifer Luu, Kurt Mullen, Vijai Nathan, and Ria Spencer.
Pay what you can. It's a $5 minimum. Anything less would be positively un-American!
Register soon. Ticket sales close at showtime.
And, since we won't see you, come as you are.
Storytellers will perform from the comfort and safety of their own homes. The audience can comment, wave, clap, and be appropriately inappropriate in the chat section of our live on Zoom show.
Window into Jack's living space opens at 7:53pm.
Show starts at 8pm EDT.
Suggested contribution $15 per attendee. Minimum $5. Proceeds will be divided among the storytellers.