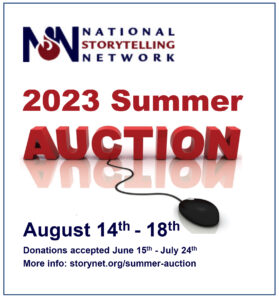 NSN's vision is a world in which all people value the power of storytelling and its ability to connect, inspire, and instill respect within our hearts and communities.
The money raised by this auction will help NSN fulfill its mission to advance all forms of storytelling within the community through promotion, advocacy, and education.
Perhaps you have some items which need a new home.
Last summer, 145 items were donated by 86 donors. There were 84 bidders and $7,500 was raised. We are hoping, with your help, to do better this summer.
Here are types of items which have sold well in the past:
Art: quilts, wall hangings, paintings
Clothing
Food
Gift certificates
Jewelry
Storytelling accessories: puppets, musical instruments and other story enhancers
Storytelling books, CDs, DVDs
Storytelling conference and storytelling festival registrations
Storytelling services (marketing, recording, coaching, photography, house concerts, etc.)
Minimum value for each donated item: $35
Items must be new or nearly-new in excellent condition.
So please start thinking about what you'd like to donate this year. Full instructions on how to donate will be emailed on June 15th.
GRATEFULLY THANKING YOU IN ADVANCE FOR YOUR SUPPORT,
Kate Dudding and Marilyn McPhie, Auction Co-Chairs