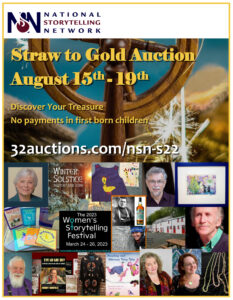 The NSN summer auction opens on Monday, August 15, at 11 am Central.
https://www.32auctions.com/nsn-s22
Over 140 wonderful items, including Art, Books, CDs, Clothing, Coaching, Festivals, Gift Certificates, Jewelry, Liquor, Lodging, Performances, Puppets, Workshops, and more!
Many thanks to all our donors for donating items valued at over $20,000. Their generosity and support of NSN is greatly appreciated.
Now YOU have a chance to support NSN AND get some amazing items.
Remember, bid early and often.
GRATEFULLY THANKING YOU IN ADVANCE FOR YOUR SUPPORT,
Kate Dudding and Marilyn McPhie, Auction Co-Chairs