By Katie Knutson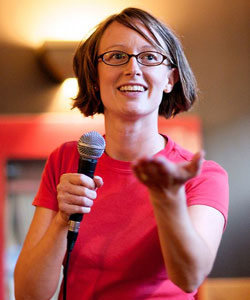 In the New Voices column in Storytelling Magazine, I have been focusing on making connections between the storytellers we often see at NSN events and the younger adult tellers out there, who do not find their way to our festivals and conferences. On November 11, 2012, adults of all ages packed a sold-out room in Minneapolis to hear stories. These were not the edgy, Moth-style, personal stories many think of when they imagine young listeners. Nor were these the family-friendly tales that fill many storytelling festivals. These were four tales from the Brothers Grimm – two that many had heard, and two tales that Jack Zipes had recently translated into English for the first time.
With a $20 ticket price and limited marketing, one might assume that the audience would have been solely the existing members of the storytelling community, but that was not the case. The audience varied greatly in performing experience, exposure, styles, and applications. Two dancers in their twenties who had just discovered storytelling sat near 30-year veterans of the art; all were there to celebrate "200 Years of the Brothers Grimm."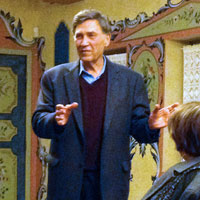 What was it about this performance that made it universally appealing to so many different people? A large part of it was featuring the well-known and respected local talents of Kevin Kling and Jack Zipes. Part was bringing in Megan Wells, a regional teller who has been building a local following. Part was the commitment to a specific body of work and area of study. Part was the excitement built with occasional email or Facebook updates sharing the declining number of available tickets. Part was the atmosphere: the elaborately painted banquet space of The Black Forest Inn, an authentic German restaurant, filled with story lovers. The producers invited ticket holders to come early for a special themed dinner menu that included blood sausage and black bread, turning the night from a performance only to an evening-long event. Storyteller Barbara Schutzgruber heard the buzz from Ann Arbor, Michigan and flew in for the night. She said, "It was a once in a lifetime opportunity to hear those stories in that setting. It was definitely worth it!"
The evening's curator and host, Loren Niemi, introduced Jack Zipes, who gave us an introduction to and context for each tale. Each of the four performers told one of the Grimm stories, followed by a variant. The evening included Leif Jorgensen and Maria Asp, two teaching artists from the Children's Theater Company. Their fast-paced, informal styles contrasted nicely with the seductive, deliberate style of Megan Wells and the jocular, honest and personal style of Kevin Kling. Audience members, engrossed in conversations, lingered after the evening concluded. These 90 people, whether they realized it or not, were advocating for the relevance of folklore in the present.
What events have you produced or attended that drew in young and old alike, or that attempted to reach a broad audience and succeeded or failed? What do you think led to that result? Please share your experiences here!
About Katie
Katie Knutson has spent more of her life as a storyteller than not. She holds a degree in Theatre and spends her days working in schools using theater and storytelling to teach literacy, playwriting, acting, improvisation, and teamwork. She leads a variety of workshops for adults, including voice and movement, and has served extended terms on the boards of Northstar Storytelling League and Northlands Storytelling Network.
Contact Katie
Website: www.ripplingstories.com
Email: