Keep up with current events by "liking" the Youth, Educators & Storytellers – YES Facebook page. (Be sure to scroll down.)
---
YESCon 2022
August 11
8am-8pm Central
[6 Pacific, 7 Mountain, 9 Eastern]
8-9am Central – Coffee Hour
9:30-11am – Reimagining Indigenous Stories, Dr. Margaret Huettl
Bio: Margaret Huettl, a descendant of Lac Courte Oreilles Ojibweg, Assyrian refugees, and European settlers, is Assistant Professor in History and Director of Indigenous Studies at the University of Wisconsin-Oshkosh. Dr. Huettl grew up in rural Wisconsin (and, yes, she does love cheese), and from there she moved to New York to attend the University of Rochester. She earned her MA from the University of Oklahoma and her PhD from the University of Nevada, Las Vegas. She is a scholar of Native American history and North American Wests, and her research examines Indigenous sovereignty and settler colonialism in a transnational context. Her current project explores the continuities of Ojibwe or Anishinaabe sovereignty in the United States and Canada during the nineteenth and twentieth centuries, centering her research on Anishinaabe ways of knowing. When she's not teaching or researching, she enjoys hiking with her dog, Pig, and watching bad cooking shows.
Session Description: Historian Margaret Huettl grew up playing the classic version of Oregon Trail game, with its narrative of U.S. expansion complicated only by dysentery and broken wagon axles. Now, she works with game developers and other Indigenous historians to re-populate the Oregon Trail with Indigenous people and perspectives. Join Dr. Huettl for a conversation about re-imagining more inclusive, more complex stories about the legacies of U.S. expansion and Indigenous persistence.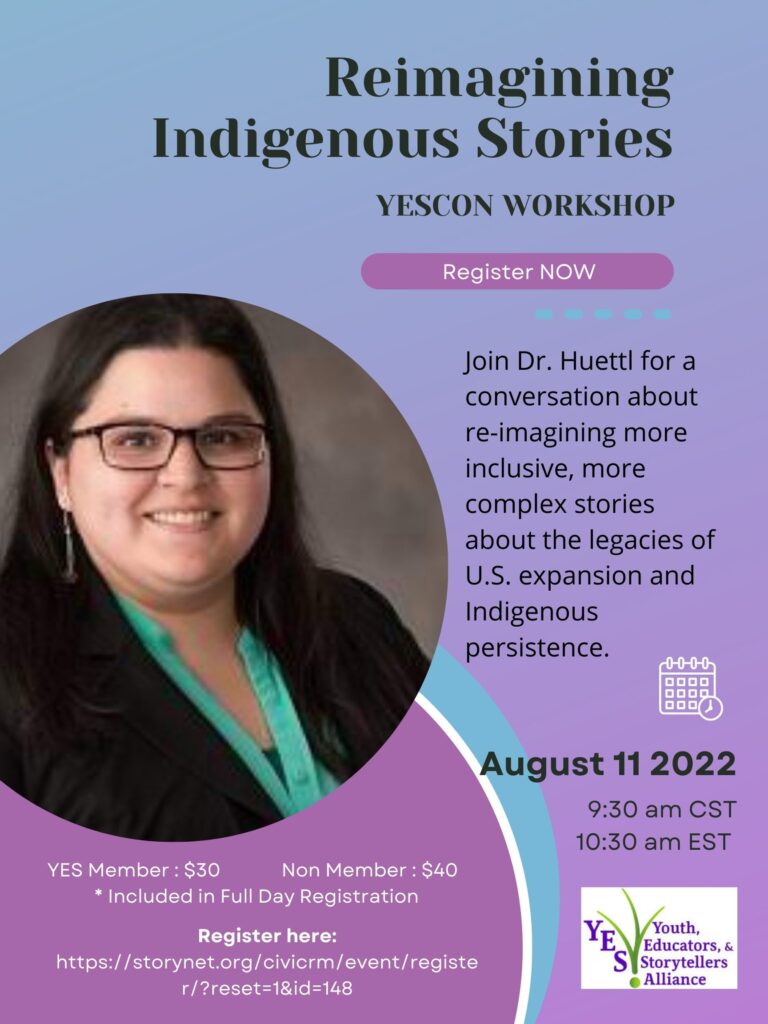 11am-12:30 – Lunch and Membership Meeting
Meeting will start at 11:30
Attendance at conference not required to attend meeting
1-2:30pm – Working on our Work
Collaborative work time to say "here's what I'm doing, this is what I could use"
Use of main room and breakout rooms
Topics could range from rules and regulations, need for insurance, etc. to creative work on stories
3-4:30pm – The Eyes, The Conductors of the Audience's Imagination, Antonio Rocha
Bio: Antonio Rocha (pronounced haw-sha), originally from Brazil, is an award winning storyteller whose blend of mime and storytelling has taken him from the National Storytelling Festival to the Smithsonian, from Maine to Hawaii in a total of 45 states , and from Brazil to Singapore in 20 countries across 6 continents. A recipient of NSN's Circle of Excellence Award, and a two time TEDx presenter, Antonio's is also highly respected as a workshop facilitator.
Session Description: I have taught various storytelling techniques over the past 30 years. I have recently realized that you may master voices, body and gesture, but if you do not know what you are doing with your eyes, then your story presentation will suffer greatly. I often say that the imagination of the audience goes where the eyes of the teller goes. Have you noticed that when you are listening to a person, you are looking at their eyes, and not their mouth?? So, if you are interested in polishing your storytelling presentation and take it to the next level, come along and learn in this workshop how to precisely use your eyes to define transitions, character, emotions and the geography of your story. Taking this leap with me will improve your telling leaps and bounds.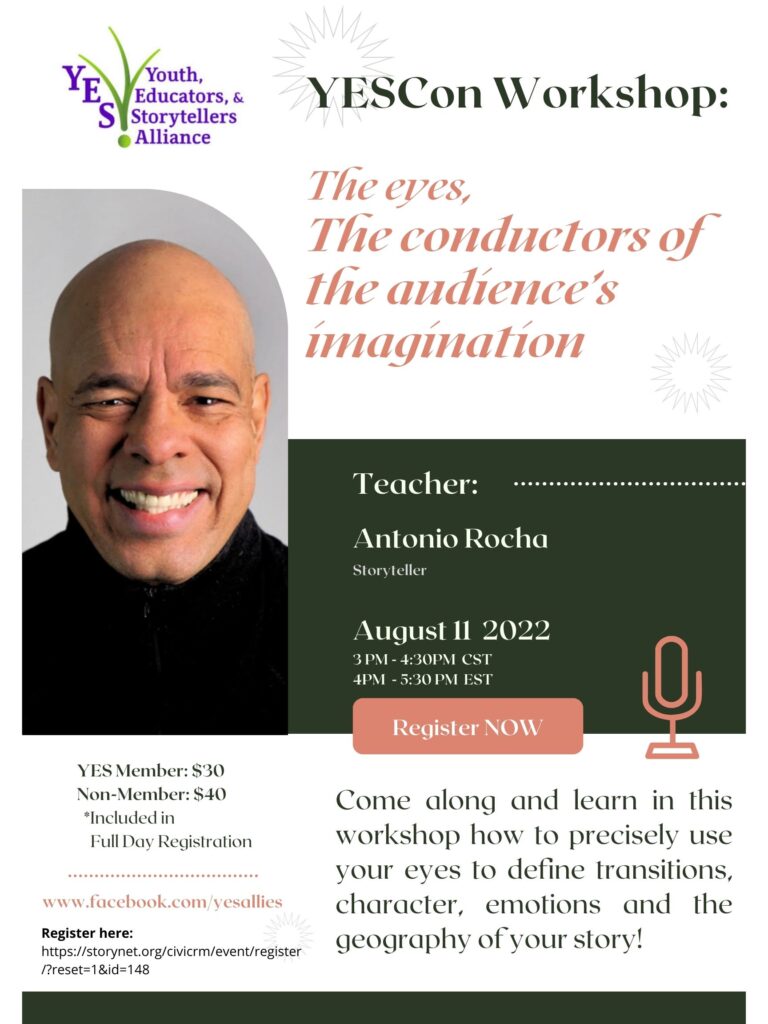 5-6:30pm – YES Concert: Three Generations of Raconteuses
Denise Mount, Sarah Beth Nelson, Virginia Nelson
Mother, daughter, and granddaughter share the stage to tell stories from their school days and summer vacations.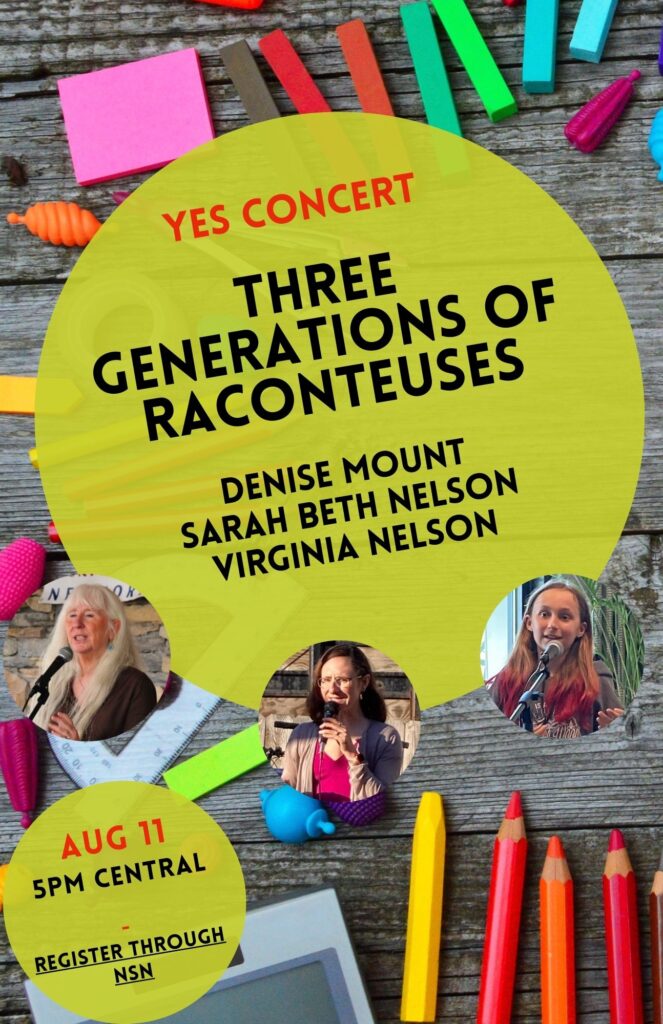 7-8pm – YES Swap
Youth and adult tellers welcome
Tellers chosen at random
5ish minutes for each teller
YES Happy Hour/Coffee Hour
In this strange time, we need all the connection we can get. We'll still be doing our quarterly Story Labs on specific topics, but we're also adding these informal chats about all things YES. We'll do some in the evening and some in the morning, to accommodate a range of time zones. These Zoom chats are free for members and nonmembers, so tell your friends.
Quarterly Story Labs
An added benefit of YES membership is free registration in our quarterly-ish Story Labs, online workshops led by storytellers. Non-members may attend for $15. Stay tuned for the next one! Find upcoming dates on our Facebook page.
Register Here: https://storynet.org/groups/yes/yes-registration/
Please note, the registration link stays the same and is updated with new StoryLab information each quarter.
Everyone is welcome!