Priscilla Howe – Co-Chair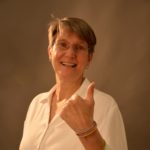 Storyteller Priscilla Howe travels the world (fourteen countries on four continents to date) with a bagful of puppets and a headful of stories. Since 1993, her full-time job has been telling folktales, personal stories and literary tales to listeners of all ages, even grownups. She offers workshops on storytelling, writing, puppetry, story games and more. Her favorite audience is the one in front of her at the moment. In 2015, Priscilla was a Fulbright Scholar in Bulgaria, collecting folktales and performing. A native New Englander, Priscilla lives in Lawrence, Kansas with her cat, Francis Bacon (Sir). She's also looking for the best restaurant pie on earth. Her website is priscillahowe.com.
Sarah Beth Nelson – Co-Chair
Karin Amano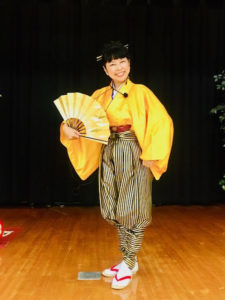 Born and raised in Japan, Karin was trained in Japanese traditional dance as well as singing and acting, and ultimately moved to the U.S. in order to study educational theater at NYU. While in NYC, she performed numerous plays for young audiences, taught acting and dance summer camps for children in Central Park, and performed as part of traditional dance troupe, Minbuza, at the Japanese Folk Dance Institute of New York. Amano was a full-time storyteller and actor at Walt Disney World for 11 years, where she still performs annually at Epcot's Japan Pavilion for Holidays Around the World. She has been telling Japanese folktales in number of settings including various cultural festivals, schools, and libraries all over the U.S. For more information, check out japanesestoryteller.com
Kevin D. Cordi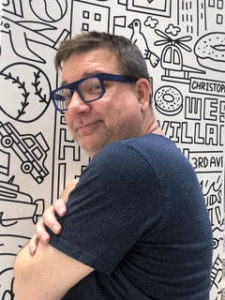 Kevin D. Cordi currently teaches at Ohio University Lancaster. He is a literacy and literature professor and uses story in all his teaching. Before that he taught at Ohio Northern University and Ohio Dominican University. He has developed graduate and undergraduate classes in "Applied Storytelling" and "Uncovering Folktales and Fairytales." He holds a Ph.D. from OSU in Storytelling and Education and is the author of You Don't Know Jack: A Storyteller Goes to School and Playing with Stories: Story Crafting for Writers, Teachers, and Other Imaginative Thinkers. He also is a guest instructor teaching doctoral classes in storytelling at Judson University.  
Kevin believes in the power of story and its place in the academy and in schools. He is the founder of YES and welcomes a return to help address these issues.  You can find out more at www.kevincordi.com   
Janice Del Negro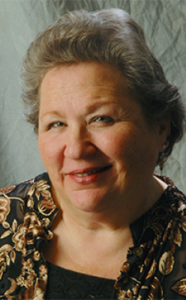 Janice Del Negro teaches courses in children's and young adult literature, storytelling and outreach programming, library services to youth, and foundations of library and information science. She was a founding member of the planning board for the Butler Children's Literature Center, which opened at Dominican in January 2009. Del Negro is an accomplished storyteller and serves as a peer reviewer forStorytelling, Self, and Society: An Interdisciplinary Journal of Storytelling Studies. She has been a featured storyteller at the National Storytelling Festival, the Bay Area Storytelling Festival, and the Illinois Storytelling Festival.
Yasu Ishida
Angela Lloyd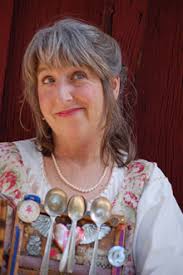 Angela tells stories, poetry with music, rhythm. She plays the autoharp, baritone ukulele, spoon and bell. A consummate artist on the washboard, Angela's repertoire embraces stories and songs from the oral tradition, personal experience, and contemporary poets' writings. Angela has crisscrossed the country as a teaching/touring artist, conducting residencies, professional development and performances. Highly sought after as a featured teller at regional and national festivals, she is a 2013 Recipient of the NSN Oracle Circle of Excellence Award. This award is presented to artists who are recognized nationally by their peers to be master storytellers. Since 2009 Angela is the storyteller in residence on the teaching staff at Children's Community School, Van Nuys, California. Find her online at www.angelalloyd.com
Sam Payne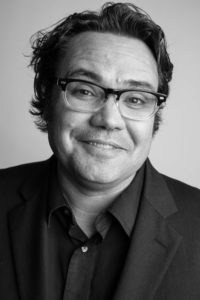 Sam's fill-the-room stage presence, craftsmanship, and his soaring tenor voice have established him as a favorite with audiences and critics alike. Payne has brought his stories and songs to halls in Canada, Bulgaria, Tokyo, and from coast to coast in the United States, including the Will Rogers Auditorium in Dallas, Texas and the Kennedy Center in the nation's capitol. Sam is the Weber State University Storytelling Fellow, and has been featured at festivals large and small, including the Timpanogos Storytelling Festival and on the Exchange Place stage at the National Storytelling Festival. Sam has authored publications for children, with a regular classroom readership of more than a million elementary school students. He produces and hosts "The Apple Seed: Tellers and Stories," a national radio show on the art of storytelling, broadcasting daily on BYU Radio. Find him online at www.sampayne.com.
Donna Washington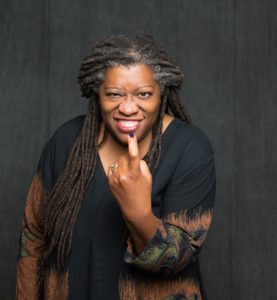 Donna Washington is an international master storyteller, artist-educator, and published author who has been performing for audiences of all ages for over thirty years.
Her nine storytelling CDs have garnered over twenty-four awards national awards. She has authored numerous articles about storytelling and education including contributions to the award-winning book, Social Studies In The Storytelling Classroom. She is also the author of four children's books: Li'l Rabbit's Kwanzaa, A Pride of African Tales, The Story of Kwanzaa, and A Big Spooky House. She has served as president of the North Carolina Storytelling Guild and on the editorial board of the National Association of Black Storytellers. She serves on the Theatre and Young Audiences Board for Northwestern University.
Donna lives with her husband and two cats in Durham, NC. You can find more about her at DLWStoryteller.com and read her blog at http://donnawashingtonstoryteller.blogspot.com/.