The Brimstone Award for Applied Storytelling supports a model storytelling project that is service-oriented, based in a community or organization, and to some extent replicable in other places and situations. We are confident that the projects selected as recipients will inspire excellence in applied storytelling work and communicate to new audiences the humanitarian possibilities of storytelling.
Providence Institute for Human Caring

Hear Me Now is honored and humbled to be selected as the 2017-18 Brimstone awardee, a distinction that will help humanize contemporary health care.
Hear Me Now is a storytelling and listening program founded through the Institute for Human Caring at Providence St. Joseph Health, in partnership with StoryCorps, the nation's largest oral history project.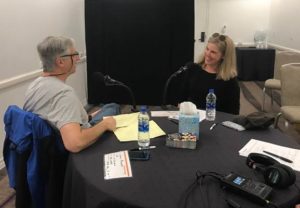 Here's how it works: two people who know each other share stories from their lives. Volunteer facilitators record the conversation, using digital equipment from StoryCorps. Participants receive a CD copy; the recording is archived in the Library of Congress – a "digital love letter" to posterity. Edited versions are posted on the Hear Me Now website.
To date, Hear Me Now has captured hundreds of stories from patients, families and medical professionals across the seven Western states Providence St. Joseph operates.
Hear Me Now enriches Providence St. Joseph's focus on whole person care – highly personalized health care that addresses emotional, spiritual, and psychosocial needs of the patients and communities we serve. Whole person care improves overall patient well-being, increases professional caregiver's satisfaction, and enhances community engagement.
"Hear Me Now reminds us of our shared humanity and the importance of intimate connections that often get lost in today's transactional medicine," said Dr. Ira Byock, founder and chief medical officer of the Institute for Human Caring. "The 2017-18 Brimstone award will help us continue to celebrate the fullness of each and every human life through the enduring power of storytelling."
To learn more, find resources, or get involved, please visit Providence Institute for Human Caring at www.providence.org/InstituteForHumanCaring.