By Glenda Bonin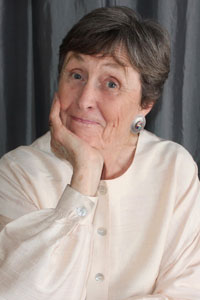 In the past two years, my storytelling repertoire has expanded to include audiences of elders – some in vigorous health, and others dealing with a variety of medical conditions and memory loss. For the most part, these audiences are associated with senior living communities or private assisted living sites. I have identified and served five audiences in this demographic: (1) active older adults; (2) seniors living at a group site in order to enjoy activities and meals in the company of others; (3) individuals attending day-care services; (4) older elders requiring some form of supervision and medical assistance, and (5) residents in need of memory care services.
At first I was not certain I wanted to provide programs to seniors in assisted living communities, although my current age now places me squarely in this age group.  My early experiences of telling stories as a volunteer in nursing homes in the 1980s were less than satisfying. At the time, it seemed to me that the audiences were not prepared to hear stories, and I was left with the impression that a storytelling session was considered a convenient opportunity for the staff to take a break.
In 2014, I received a call from a woman who asked me if I would be interested in telling stories at an assisted living and memory care site in Tucson, Arizona. I explained that my storytelling work focused on children, students, family groups and large community events. The caller, Sandy, was persistent. Once she told me her story, I agreed to consider her request.
She told me she had recently placed her mother in an assisted living facility. She noticed her mom had little or no interest in bingo, sing-along sessions, craft projects, and soothing live music. Sandy said she thought her mother would respond better to some form of creative, verbal stimulation. She hoped storytelling might work because her mother had taught English Literature until her retirement. Since words and language had been the primary interest of her mom's teaching career, Sandy believed stories would be the answer to an unmet need.
I did a bit of research about creative aging and memory loss, and agreed to see if what I had to offer might have value for someone like Sandy's mother. I donated a storytelling session at the site where her mother was a resident. As I prepared for the performance, I decided to bring along some story-related artifacts to see if these items might provide something extra for the residents to enjoy.
Sandy was with her mother during that first story session. Fourteen residents, two staff members, and the owner of the facility were in the audience. I was delighted with the positive response. After the show, the owner asked me if I would consider doing a weekly program at three of his residential sites.
I spent two months doing research, and I attended as many workshops as I could find to become more knowledgeable about elder issues, creative aging and memory loss. From May to December, I delivered twenty-nine different story programs to three different assisted living sites. The weekly pace was quite a challenge, but well worth it since these weekly sessions made it possible for me to have programs to draw on as my customer base grew.
If you have an interest in telling stories to an underserved and growing population of appreciative listeners, I invite you to attend my workshop, "How to Successfully Deliver Storytelling Programs to Senior Living Communities," during the July 21-24 2016 National Storytelling Network Conference in Kansas City, MO (storynet.org/conference). I am eager to share the lessons I learned after being approached with an unexpected and serendipitous request to create a program for a teacher living in an assisted living facility.
So far this journey has been pure joy for me, and I sincerely hope that after learning about my experience, some of my storytelling colleagues will be inspired to go back home and develop their own story programs to serve this receptive audience.
About Glenda
Glenda Bonin came to storytelling in a round-about way. She discovered a love of theater when she was in high school, and learned quickly that a good story made good theater. Glenda told stories as a volunteer at a New Jersey library when her children were young, and subsequently developed a part-time business as a children's entertainer. She's made her living as a full-time storyteller since 1996 and continues to find new ways to develop as a professional. Glenda is equally comfortable telling stories with her puppets to 5-year-olds, recalling western history tales at local ranches, and sharing personal reminiscences to folks in senior living communities.
Contact Glenda
Website:  www.StoryWorksGroup.com
Phone: (520) 629-0270 or (520) 235-4171