Family Friendly Event
Presented by the International Storytelling Network, Red Internacional de Cuentacuentos (RIC), which brings together 1,351 storytellers from 61 countries. Our objectives: connect storytellers from all cultures, revitalize libraries and schools, encourage reading, disseminate traditional and contemporary literature, and promote storytelling through articles and publications.
http://www.cuentacuentos.eu
If You Would Like To View This Video You May Purchase Access In The Digital Library. If You Have Already Purchased Access And Are Having Difficulties Viewing The Content, Please Contact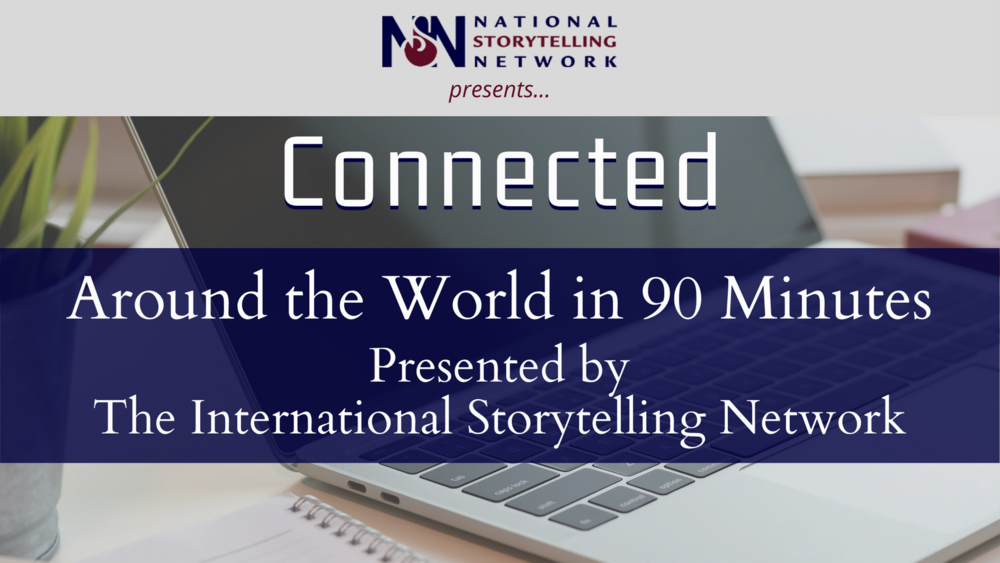 Presenters:
Stories
The Stair told by Beatriz Montero
A fun children's story that happens up and down a stair.
From Spain. General coordinator and founder of the International Storytelling Network (RIC). She has books published for children and adults in Spanish, English and Portuguese. She has told stories in 22 countries on 6 continents. Beatriz is broadcast daily on television in Spain, Mexico, Argentina, Costa Rica, Venezuela and Chile. Her YouTube channel has over 500 video stories.
www.youtube.com//BeatrizMontero
The Wounded Selkie told by Richard Martin
A tale of hate, revenge, forgiveness, reconciliation and understanding.
UK/Germany. Richard travels the world hearing and telling folk tales, as well as leading workshops. More than 100 stories are in his free video gallery. Over 30 years a language teacher, many of his tales have teaching ideas.
www.tellatale.eu
The Mountain's Tale told by Geeta Ramanujam
From India, about the relationship between a mountain and a storyteller bird.
Geeta Ramanujam is a Master Storyteller, Trainer and Academician and the founding Director of Kathalaya's International Academy of Storytelling, offering Certified courses. She is the pioneer of the Storytelling Movement in India and for the past 24 years she has travelled to over 43 countries with her performances and training. She has trained over 85,000 people in the art. She is an Ashoka fellow and a coordinator of the International Storytelling Network.
www.kathalaya.org | https://www.facebook.com/kathalaya |
https://www.facebook.com/geeta.ramanujam
The Varona and the Seagull told by Michael Kerins
About finding and choosing friendship.
From Glasgow, Scotland. He is a man of many natural talents. He can be very funny, hilarious in fact, but also sad and tragic. Michael evokes feelings and memories in his audience they didn't know they had. It is rare to find an individual with such an extremely creative talent, which is matched by sound commercial awareness and strong business acumen and Michael is just that.
To view this remarkable short film (11 minutes).
https://www.youtube.com/watch?v=WuTkPWWlCPI
https://www.facebook.com/michael.kerins.18?ref=bookmarks
http://www.slatecharity.com/Welcome.html
The Crystal Heart told by María Gómez de la Torre
A Vietnamese tale.
Peruvian Canadian. Member of the NSN and the International Storytelling Network. Drama teacher and founder of the Storytelling Club at the University of Piura. She's also done workshops for adults and many presentations at different schools for students of all ages. She specializes in fairy tales and old tales and especially loves Celtic mythology and legends.
https://kuentakuentos40.wixsite.com/flythroughfantasy | https://www.facebook.com/flythroughfantasy

Matthew Trigg and the Pharisees told by Janet Dowling
From my collection Surrey Folk Tales. It's an old story that has transformed to spur community cohesion.
Originally from Barking, Essex – the very East End of London UK – via Surrey and now resident in Devon. Janet finds and retells the stories of the landscape and local communities that she lives in. Author of two books of collected folk tales, with Devon Ghost Tales receiving the Storytelling World Resource Award for 2020. She curates the international Internet Story Cafe for Inquisitive Adults.
www.JanetTellsStories.co.uk | www.JanetDowlingAuthor.com
The Rat-rhymers of Ireland told by Richard Marsh
Irish poets have a magic spell to control rats, as documented by Shakespeare and Ben Jonson, but what happens when one rat fails to follow the others?
The Storyteller's Death Wish told by Richard Marsh
About to be executed, he is given a choice. How does he wish to die?
From the United States, living in Ireland since 1980. Storyteller, Legendary Tour guide, author of collections of traditional myths, legends and folk tales, Irish and world-wide.
Member: Storytellers of Ireland and The Folklore of Ireland Society.
http://www.richardmarsh.ie | https://mazgeenlegendary.wordpress.com
richard at richardmarsh dot ie