told by Yvonne Healy
Click to Listen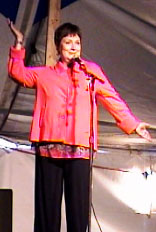 Family was a blue envelope crinkly thin as onion skin. My mother sliced it with a butter knife careful to preserve the criss-crossed messages of love held inside.  My uncle was the sweet, rank aroma of a brown box stuffed with shamrock plants grown moldy on the transatlantic mail voyage. Granny was an Irish Sweepstakes lottery ticket, race run and prize lost before my birthday gift arrived. Photographs were too costly for Irish incomes. Instead we exchanged "holy cards," pictures of saints, to mark weddings, funerals and births. My friends dined on grandmother's roast chicken each Sunday and holiday. Summertime was when Granny fed me boiled sweets with cuddles. (To my knowledge, she never cooked. Cuddling was more important.) Sprouting like weeds, cousins changed enough that each visit we circled like dogs meeting for the first time.
My family is not remarkable. But I've discovered that many people like to hear about our idiosyncracies and attitudes because we're Irish. Maybe it's because most Americans are of Irish descent or are close to people with Celtic ancestry. In this story, I wrap memories around an old chestnut to share my family with you.
Sin é. That's it.
About Yvonne
Yvonne Healy is the premier traditional Irish storyteller in the USA determined by the Republic of Ireland's authority on culture and language.
Invite Yvonne to your neighborhood. Yvonne finds home stays cozy, driving relaxing and sharing stories fulfilling. Workshops reveal the secret bounty of public domain Celtic stories, develop performance skills, and uncover easy ways to shape stories and family history. Programs are tailored to each audience: urban slam, school residency, town festival, chic regional theater, church basement or book nook.
Purchase CDs "Blarney" and "Heart of the World" at www.IrishStoryteller.US. Keep eyes peeled for Yvonne's Ghost Stories due Halloween 2013.
Note: Yvonne was chosen to perform this story at a regional showcase at the 2012 National Storytelling Conference, after which she joined the Board of the National Storytelling Network as the North Central Regional Director.
Podcast: Play in new window | Download