by Gini Cunningham-Baefsky
Recipient NSN Spotlight Grant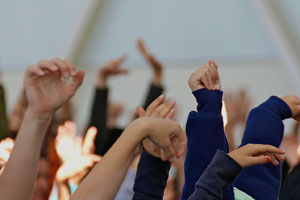 If you ask any De Anza, Pinole Valley or Hercules High School Interact Service Club student what their most important educational experience has been to date, they are likely to tell you (in unison), 'the Bay Area Storytelling Festival Study Trip'. Not only is it the best field trip ever, but the students agree that they spent years in anticipation of the day when they could join the ranks of teen helpers and run the Study Trip itself. And they have, under the thoughtful tutelage of Robin Yee Wilson, Study Trip Coordinator.
During her fifteen years as event chair, Robin and the Bay Area Storytelling Festival Study Trip brought storytellers to over 8500 elementary age school children, accompanied by teachers, aides and supervising parents. Many high school students who attended the study trip when they were in elementary school joined an Interact Service Club in high school to give back, and to help with their local storytelling festival.
Providing young students with an opportunity to fall in love with storytelling, seeing children transformed by the magic of stories, and then watching those teens insist on helping the next generation experience `festival magic' has been extremely satisfying for Robin and her group of dedicated volunteers. Robin reports that after attending the Study Trip in 2012, one third grade class when asked to make oral reports remarked unanimously that they wanted to give their presentations like "storytellers", standing tall, with chests out, and dramatic deliveries.
This year marks the 16th annual Bay Area Storytelling Festival Study Trip. Robin Yee Wilson recently retired from her leadership position with the Study Trip and has passed the torch to three new chair-persons; Michael Baefsky, Gini Cunningham-Baefsky and Jean Ellisen. They are busy at work, excited for the day this year (May 17) when 500 students will have an opportunity to hear Len Cabral, Yvette Brandy and Will Hornyak.
The Study Trip and Bay Area Storytelling Festival will take place at the Craneway Pavilion and Conference Center, and at the Richmond Library, in Richmond, California May 17- May 19, 2013. The Craneway is an old Ford automobile factory, converted to war production during World War II, and staffed primarily by women who are known proudly as `Rosies', derived from the cultural icon "Rosie the Riveter."
Children attending the Study Trip will have an opportunity to learn about the Rosies through interactive games organized with park rangers and volunteers from Rosie the Riveter/World War II Home Front National Historical Park, which is located next door to the Craneway.
This year the Storytelling Association of California's (SAC) received an NSN Regional Spotlight Grant (Pacific Region), on behalf of the Bay Area Storytelling Festival Study Trip. This was one of seven grants given to producers of storytelling events for their dedication to connecting people to and through storytelling. SAC and the Bay Area Storytelling Festival (BASF) committee are grateful for this endorsement of the Study Trip and acknowledge Robin Wilson, Erica Lann-Clark (Northern California NSN State Liaison) and Kirk Waller (President of SAC) who wrote and submitted the grant proposal.
Gratitude is also extended to the BASF outreach sub-committee, Jean Ellisen and Liz Nichols, who have with the help of Karin Werner, organized Free Family Story Concerts at libraries to build awareness of the Study Trip and the festival. In addition, friend-raising activities with a variety of community organizations have yielded new friendships and financial support to help defray expenses. Kudos to private friends and donors who are sponsoring a class from a low income school, and directly donating funds to SAC that are earmarked for use at the Study Trip.
About
The Storytelling Association of California (SAC) is a regional voice for story listeners and storytellers in California, reminding the local and national community of the power and the joy of storytelling. SAC presents the Bay Area Storytelling Festival, an annual multicultural weekend of storytelling produced entirely by volunteers.  As part of the festival, they put on the School Study Trip, which NSN is proud to sponsor as our 2013 Pacific Regional Spotlight Event.  This year May 17th-19th marks the 27th Bay Area Storytelling Festival and 16th School Study Trip.
Websites
Bay Area Storytelling Festival:  www.bayareastorytelling.org
Storytelling Association of California:  www.storysaac.org