by Saundra G. Kelley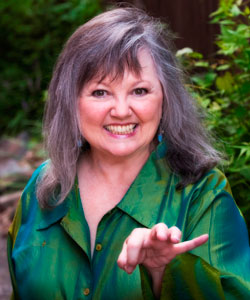 My dad was 10-years-old when his father died.  Left with two sons, three daughters, an overworked farm and a herd of Spanish cattle, the family worked hard to survive.  The hurricane season after my grandfather's death could have been a disaster if not for that young boy, and a dog named 'ole Joe.  Caught in the violent storm while herding the cattle, struck by strange blue lightning, landing unconscious in a sunken grave, he was awakened by a mysterious voice— and saved by the dog, which got a new name—Blue Lightning.
About Saundra
A storyteller and writer, Saundra Kelley lectures, and performs her many original stories throughout the southeast, and anyplace she can find an audience.  Her book, Southern Appalachian Storytellers: Interviews with Sixteen Keepers of the Oral Tradition may be purchased for $35.00 plus tax, either through McFarland Publishers or Amazon.com, or directly from her at ; Legends of the Wild: Tales of North Florida, a CD, is available for $15.00 plus tax through Kelley.
Contact Saundra
Podcast: Play in new window | Download