by Simon Brooks and Karen Chace
"A brand name is more than a word. It is the beginning of a conversation."  ~ Lexicon
For some, the concept of branding is synonymous with marketing. Yet, what many fail to realize is that branding comes before marketing. Branding is a separate piece and it should be the first piece.
Despite what many believe, a brand isn't just about your logo, tagline and glossy brochure, but rather integrates these numerous components, including customer contact, your business philosophy and marketing details. Branding tells us, and our clients, who we are as a business or organization. It's about our image, what we do, our ethics, and how we present ourselves to the world. Whether you are running a company with multiple employees or the CEO of your own storytelling business, you need to think about your brand.
If you already have a brand, has it changed through the years? Brands should evolve if our focus changes.  We might start out telling to young children but later, find our emphasis shifting to environmental stories. Change has to do with perception, fashion, management, needs, or personal choice. Although Starbucks has transformed its logo over the years, we still recognize it, from the brown, full bodied, twin-tailed siren, with the company name embedded into the logo, to the green, unembellished green version of her face and hair and no text. Even without the name emblazoned on the logo we still know the product is Starbucks. This strong, brand recognition didn't happen overnight, it took time. The logo was the entry point to the brand, which was then marketed to the masses.
You see a photo of Jason Mraz and know him by his iconic pork pie hats.  We recognize Nike by the 'swoosh', and Coca-Cola by its swish!  You immediately identify the product and the company from their logo. However, be aware that 'brand' and 'logo' are two different things.  The brand is the overall image a business, product or person projects and the logo is part of that brand.  Other specifics make up a brand:
typeface/fonts
color schemes
design styles
taglines
mission statement
For example, in the taglines "Just Do It" or "I'm Lovin' It," all those things come together to make a 'brand'.
Simon's CD's have their own separate 'brand' with the circle image and typeface along with their overall style and presentation. Originally, Simon's letterhead was a cute watercolor picture he painted.  When he moved from performing primarily for children and families, to also working in colleges, with adult audiences and businesses, he changed the letterhead to reflect that additional focus. The watercolor was dropped and he adopted a more serious black panel with his name in white letters. Another part of his 'brand' is the apple crate he brings to his performances. Initially, it began as a simple way to carry his gear and have something to place his glasses and notes. His bodhrán and backdrop are also part of his 'brand'!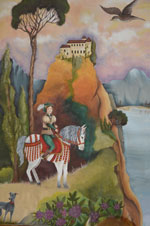 Karen's brand entry point is the ladybug. Her brochure, business card, website, and blog all use the same font, color scheme and graphic; even her gig bag is decorated with ladybugs. For performances, Karen uses a hand painted backdrop, which also has a ladybug incorporated into the picture. The ladybug, along with her tagline, "Catch the Storybug," has become part of her brand.
Your brand is telling people the story of who you are, what you do, and sometimes, how you do it. Your brand is YOU!
Take a look at yourself and what you do. Look at what others think you do. Do you have a brand or identifier?
Need some help? The workshop we are presenting, ­Branding: It Doesn't Have to Hurt, at the National Storytelling Conference in Arizona this July can help you sort it out. Come and get branded. Trust us, you won't feel a thing!
About Simon and Karen
Award-winning, British storyteller Simon Brooks began storytelling to groups and family audiences in 1991 in England, becoming a professional teller in 2003 in American.  Born in England and making many trips in and out of Wales, Simon was raised on traditional tales.
Simon combines the intensity of a solo performance with the intimacy of a face-to-face conversation whether live or on his recordings. Simon's love of his work is as inherent as his love of stories and this carries over into his workshops, teaching and sharing of skills with anyone wanting to learn the multiple facets of being a storyteller.
Karen Chace's introduction to storytelling in 1999 was pure serendipity! Since then she has been sharing stories professionally and in 2002 founded The Story Explorer's, a student storytelling troupe, and has taught the art of storytelling to over 500 students. She is the 2009 recipient of the LANES Brother Blue-Ruth Hill Storytelling Award and the 2011 National Storytelling Network's Oracle Service and Leadership Award/Northeast Region. Her book, Story by Story: Building a Student Storytelling Troupe, published by Parkhurst Brothers, will be available July 2014. Karen's greatest joy is helping students succeed in ways they never imagined!
Contact Simon and Karen
Simon Brooks
Website: http://www.diamondscree.com/
Karen Chace
Website: http://storybug.net/
Blog: http://www.karenchace.blogspot.com/